Printed Luxury ZEROTREE® bags custom made according to your wishes
Are you looking for luxurious sustainable paper bags that have a truly unique ecological look? Then choose our luxurious custom-made ZEROTREE® bags. Deluxe ZEROTREE® bags are ecological paper bags made from banana plant leaves, grass / jute fibers or recycled waste cotton and can be assembled according to your wishes. Think of the format, the cords and the printing. ZEROTREE® is a unique initiative and officially registered worldwide trademark of FF-PACKAGING. View all options of deluxe ZEROTREE® bags below.
5 advantages of Luxury ZEROTREE® bags
Luxury ZEROTREE® bags are the most unique and luxurious ecological bags that exist;
ZEROTREE® bags are 100% ecological, because only natural materials and recycled materials are used in the production process of the ZEROTREE® material;
ZEROTREE® bags are only officially marketed by FF-PACKAGING;
By using ZEROTREE® bags you contribute to the environment and the social conditions in third world countries;
Luxury ZEROTREE® bags have a trendy ecological look.

Prefer to order directly from stock?
Use of Luxury ZEROTREE® bags
The luxury ZEROTREE® bags are the ideal bags for clothing stores. In addition to the fact that these bags are very strong, the various ZEROTREE® materials often consist of recycled waste cotton from the clothing industry. How cool is it to give your customer a bag made from clothing waste or cotton waste! In this way you show that you use sustainable packaging. In addition to clothing stores, the luxury ZEROTREE® bags are extremely suitable for giving at a fair or event. In this way, your company steals the show with this unique ecological bag!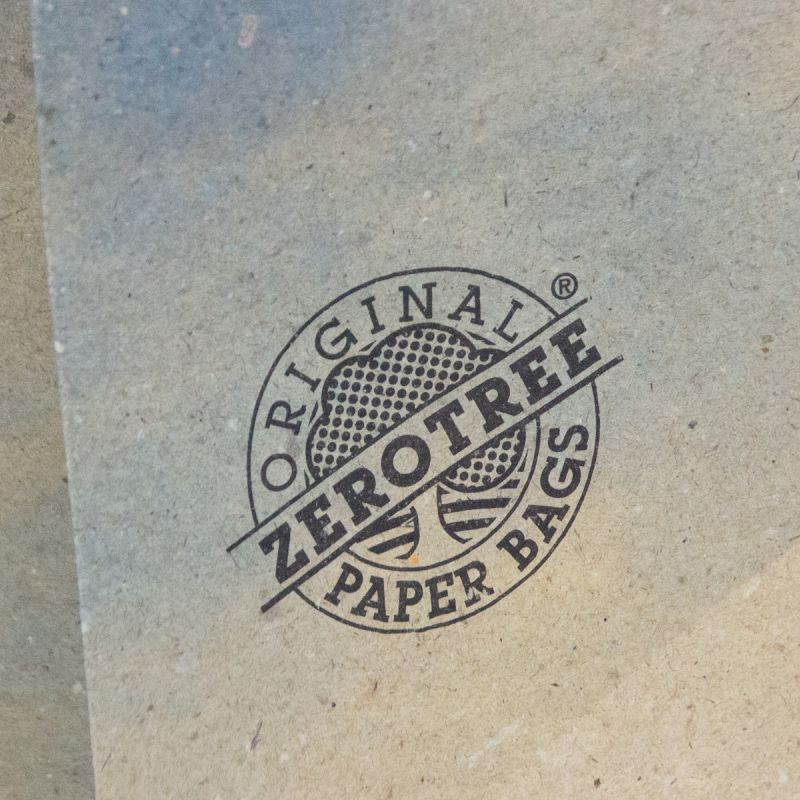 Delivery time
With our own custom productions, we can deliver the luxury ZEROTREE® bags from 10,000 pieces within 12 weeks. The minimum order amount is relatively high, because we have to make new ZEROTREE® material for each production. The delivery time of these ZEROTREE® bags is also dependent on the edition, desired finish, printing and your budget. We also have a solution for small runs of ZEROTREE® bags. We have a wide range of standard sizes and colour materials of ZEROTREE® in stock, which we can deliver from 100 pieces within 24 hours, both with or without printing.
Handles of Luxury ZEROTREE® bags
As standard, we produce the luxury ZEROTREE® bags with ecological cords or loops. We usually use jute material, recycled cotton or recycled paper material for this. We can also sometimes use the same ZEROTREE® material as the bag for the loops.
Printing Luxury ZEROTREE® bags
These ZEROTREE® paper bags can be printed on the outside of the bag in both PANTONE® colours and in full colour. Depending on the printing, deluxe ZEROTREE® bags are printed with offset printing or screen printing with environmentally friendly inks.
By means of screen printing, an intense bright PANTONE® colour can be printed on the luxury ZEROTREE® bag. Water-based ink is used for this.
The luxury ZEROTREE® can also be printed in full colour by means of offset print. Environmentally friendly soy-based ink can be used for this.
Because the ZEROTREE® material has a coarse structure and is not completely smooth, it can happen that small surfaces of the material are not printed completely.

Material of Luxury ZEROTREE® bags
The luxury ZEROTREE® bags are made from various natural and / or recycled materials. Our starting point is that for all ZEROTREE® bags that we produce, no new trees are cut down, hence the name ZEROTREE® (zero trees are used for the production of our bags). In this way we contribute to the environment and the cradle to cradle process. We also try to minimize the waste mountain in third world countries little by little.
Today we mainly use the following natural materials for the production of our ZEROTREE® bags. Each colour ZEROTREE® bag consists of one or more components of these ecological raw materials:

Grass fibers and jute fibers. Because these are often long fibers, the paper becomes relatively strong and can be recycled again as soon as the bags end up with the waste paper.

Cotton waste from the clothing industry in the Far East, mainly from India and China. We collect waste cotton from the clothing industry that would normally be destroyed. This waste cotton is separated by colour. Then we make pulp from this waste cotton by means of a water bath and binding agent pulp. If necessary, we add other natural waste materials such as grass. After the pulp has been dried and cut to size, we can use these ZEROTREE® sheets to make the bags. This creates, for example, beautiful ZEROTREE® recycled jeans paper bags or white ZEROTREE® bags made from white waste cotton.
Leaves of the Abaca plant, also called the Musaceae plant. The Abaca plant is a banana plant that grows in the Far East, mainly in the Philippines. The large leaves of this plant have large fibers that are extremely suitable for making paper. The leaves are used after harvesting the bananas, after which the plant quickly gets new leaves. By combining the fibers of these banana leaves with recycled paper, a robust ecological material is created which also belongs to our ZEROTREE® collection.
Recycled waste paper. After collection, we add natural fibers such as grass or jute. These are often large fibers that ensure that the ZEROTREE® material becomes strong. In this way no new trees have been felled and we breathe new life into old paper.
The thicknesses of the material generally vary between 150 grs. and 200 grs. ZEROTREE® material. The nice thing about these sustainable bags is that the colour of the material exudes a real ECO look from which you can often already deduce from which natural and / or recycled material the bag is made.
We always produce the cover reinforcement and bottom reinforcement of the ZEROTREE® bags from recycled cardboard. In this way, the entire bag including handle is made of durable materials.
Order Luxury ZEROTREE® bags directly
Do you quickly need ZEROTREE® bags or require a small quantity? We have luxurious ZEROTREE® bags in many different materials, colours and sizes in stock. We deliver these luxury ZEROTREE® bags from 100 pieces both unprinted and printed within 24 hours. Printed luxury ZEROTREE® bags are printed in our own print shop. The front and back can be coloured in up to 6 PANTONE® colours by means of screen printing or can be printed in full colour by means of our digital printer. Simply put together your own luxury ZEROTREE® bags in the configurators and place your order directly. Click here to order your luxury ZEROTREE® bag directly.


Be inspired by our packaging
Below you can find several examples of Luxury ZEROTREE® bags. Have you seen something beautiful that suits your needs?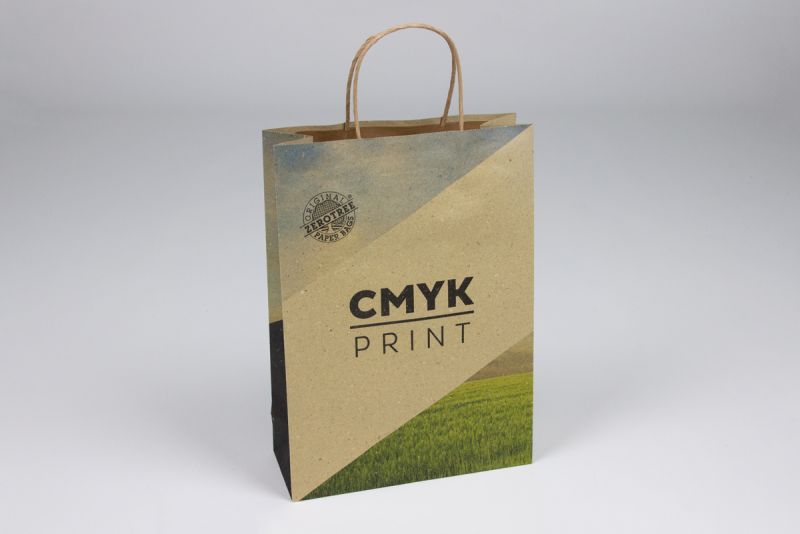 Help and advice
Do you have questions about a product or do you need help with your design? We like to help you!