Printed cork bags custom made according to your wishes
Are you looking to print ecological bags with your own logo or design? Then choose custom bags made of cork. Cork is a 100% sustainable material which is also known as the closure of a bottle of wine. You can compose these bags made of cork entirely according to your wishes. Consider the size of the bag and the length of the loops. And did you know that cork is completely biodegradable and recyclable? View all versions and options of the custom cork bags below
5 advantages of cork bags
Cork bags are 100% sustainable and biodegradable;
Cork bags are water-repellent and rain-resistant;
Cork bags can be made in any width and height;
Cork bags are very versatile, from wine trade to fashion shop;
Cork bags are all unique;

Prefer to order directly from stock?
Use of cork bags
Bags made of cork are quite unique and are not often spotted on the street. Cork is of course mainly known as a stopper in a bottle of wine, but nowadays more and more products are being marketed that are made of cork. This cork material is certainly suitable for making a trendy bag. This cork bag is nice for every wine shop to offer to customers but is also a nice bag to hand out at a fair or event, but there is also a demand for these sustainable cork bags within the entire retail industry. This is partly due to its hip appearance in combination with the ecological aspect, which is extremely popular at the moment. By designing the bag with felt loops, the bag has a high carrying capacity.
Delivery time
With our own custom production, cork bags can be delivered bags from 500 pieces within 10-12 weeks. The delivery time depends on the print run, size and desired print. In custom made production it is also possible to determine the colour of the loops from 500 pieces. We can supply these cork bags from stock by means of screen printing from 100 pieces.
Models of cork bags
The cork bags come with strong felt handles. Usually these have a length of 50 cm to be able to be carried well in the hand or 80 cm is chosen to be carried over the shoulder. These handles can be chosen in different colours. The bags of cork material can only be made in a flat model, i.e. without bottom and / or side gusset. However, it is possible to decide on the width and height according to your wishes.
Printing cork bags
Cotton bags can be printed in Pantone® colours. From a simple print in one colour on the front and back to a logo in several printing colours. The printing technique used for cork bags is screen printing. The advantage of screen printing is that this printing technique ensures a colourfast and well-covering print. A design in full colour is not possible.
Material of cork bags
The inside of cork bags are made of nylon. This is a strong material that can easily be covered with the cork material. Cork is made from the bark of trees. The cork is then boiled first, which purifies the material and makes it more elastic. Because the cork is glued to the material, the material is not completely smooth, as it exists small pieces of cork. This makes every bag unique. In addition, cork material is rain-resistant and water-repellent.
Ecological cotton bags made of cork
Cork material is 100% natural, as it is made from the bark of a tree. In addition, cork is completely biodegradable and fully recyclable. Bags made of cork therefore fit entirely within our sustainable and ecological range.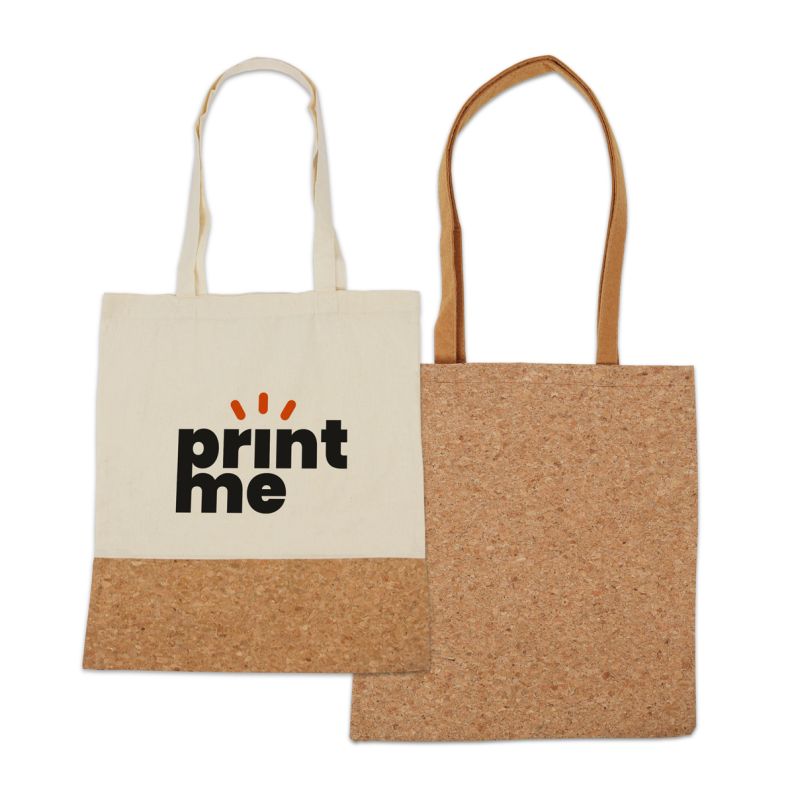 Order cork bags directly
Do you need a quick delivery or require a small amount of cork bags? We have these bags in stock in one size. This allows us to deliver unprinted, already printed cork bags from 100 pieces to you within 1-3 working days. Printed bags with cork are printed in our own screen-printing shop. The front and back are printed up to 6 PANTONE® colours. Click here to order your cork bags directly from stock.


Be inspired by our packaging
Below you can find several examples of cork bags. Have you seen something beautiful that suits your needs?
Help and advice
Do you have questions about a product or do you need help with your design? We like to help you!