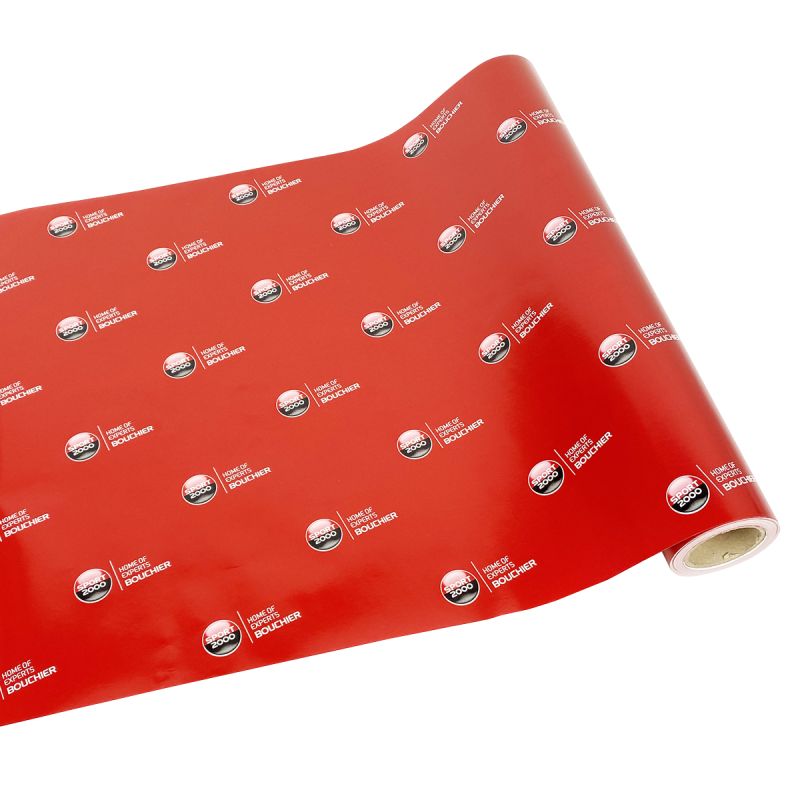 Printed wrapping paper custom made according to your wishes
Are you looking for festive packaging for your gifts and other products? Then choose custom-made wrapping paper. This wrapping paper can be printed with your company name and / or logo. You can determine the desired paper quality and width of the rolls yourself. Do you prefer wrapping sheets instead of rolls? This is also possible. For your convenience, we can immediately supply a roll holder! View all versions and options of custom printed wrapping paper below.
5 advantages of custom printed wrapping paper
Printed wrapping paper with your own text or logo makes your gift or present personally;
Printed wrapping paper is available on rolls or on loose sheets;
Printed wrapping paper is fully recyclable and also available in recycled paper or FSC® certified paper;
Printed wrapping paper can be printed with your own logo from 1 roll;
Printed wrapping sheets are relatively cheap to print with a photo or full colour image from 1,000 sheets.

Prefer to order directly from stock?
Use of printed wrapping paper
Wrapping paper is widely used in the retail sector, especially for wrapping gifts and presents. In addition, it is also increasingly used to protect a product which is then placed in a magnetic box or shipping box. By printing the wrapping paper with your own text or logo, you can give the gift a personal touch. Because the wrapping paper is usually delivered on a roll, it takes up little space and you can wrap many gifts with one roll. We also see that many customers opt for extra chic wrapping paper around holidays such as Christmas.
Delivery time
With our own custom production, we can already produce printed wrapping paper rolls within 4-6 weeks. The delivery time depends on the edition, the format and the desired print. We have many standard designs for wrapping paper directly available from stock.
Wrapping paper with print
When printing gift wrapping paper, the logo is often repetitively printed on the rolls. Gift wrapping paper can be printed in any desired colour or design, from a simple single-colour print to a design in multiple print colours or in full colour. The most common printing technique for printing rolls of gift wrapping paper is flexographic printing, which can start from as few as 4 rolls. From just 1 roll, we can also print gift wrapping paper using digital printing. If you opt for sheets of gift wrapping paper, these sheets are often printed using offset printing, with a minimum order quantity of 1,000 pieces or 25 kilograms.
Execution of printed wrapping paper
Wrapping paper is usually supplied on rolls. The most commonly ordered width is 50 cm. Depending on the chosen quality, there will be approximately 180 to 250 meters of paper on a roll. The rolls are standardly 100 cm wide and are then cut into 50 cm rolls. It is therefore also possible to opt for a section in 30 cm. width and a section in 70 cm. width. All other dimensions in between are of course also possible, feel free to inquire about the possibilities. Do you prefer loose wrapping paper? This can be made in any format too! Do you prefer a maximum number of meters be delivered on a roll? You can also contact us about this to discuss the options.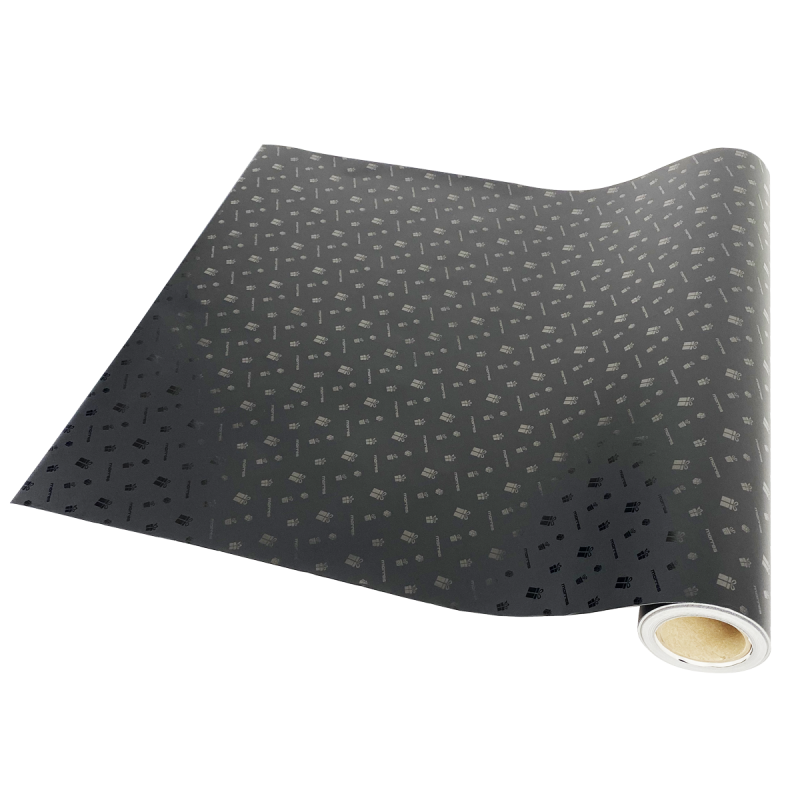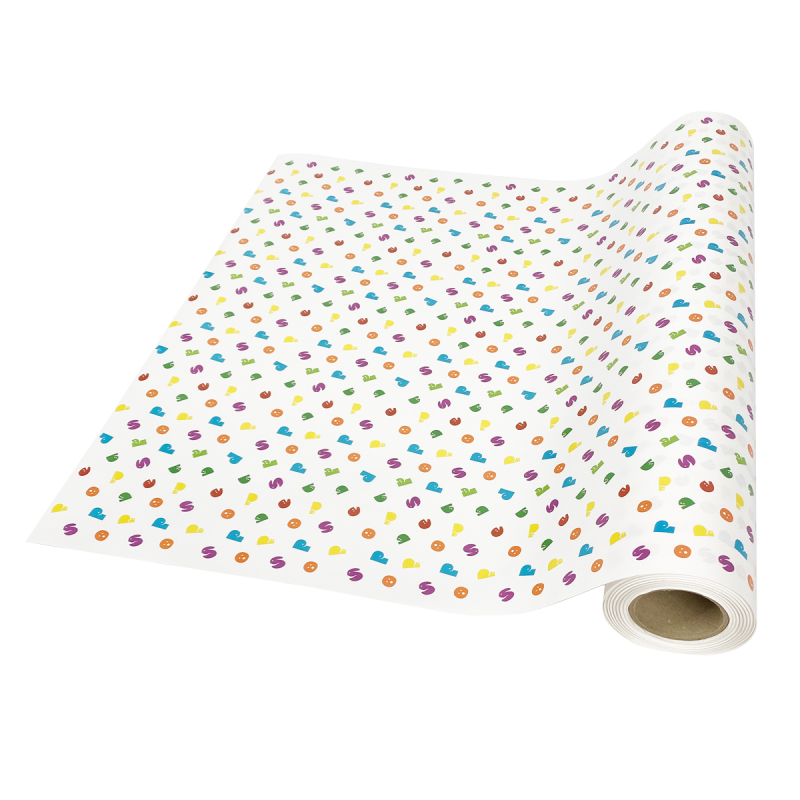 Wrapping paper material
Wrapping paper is usually made from paper. You can choose from white striped or brown striped kraft paper (matte appearance) or white coated paper, which is a shiny material. Metallised paper is also possible for a luxurious look. The usual thickness is 60 to 70 grams paper. For a thicker quality and more luxurious appearance, 80 grams is a good alternative. For an extra luxurious finish, you can opt for a spot UV, this is a glossy layer of lacquer that can be applied to the text or logo.
Ecological printed wrapping paper
Printed wrapping paper is made from paper. This paper is completely recyclable. In addition, it is possible to choose recycled kraft paper or FSC® certified paper. With this you support responsible forestry. All parties in the supply chain must be FSC® certified. FF-PACKAGING is FSC® certified (SCS-COC-005184).
Roll holder
Have you already thought about how to use the wrapping paper rolls? We have standard roll holders which can be supplied with the shipment of wrapping paper. This way, the roll is not in a dusty corner, but you can hang it neatly right away. In addition, there is a cutting blade on the roll holder with which you can easily cut the paper. This makes packing a lot easier and more practical.


Order wrapping paper directly
Do you need fast or small quantities of wrapping paper or cellophane wrap? We have various standard colours and designs available directly from our showroom. You can come and see the rolls in Harderwijk and take them with you or you can order it via the webshop. Usually, you will receive the wrapping paper within 1-2 working days.
Order directly from stock
Be inspired by our packaging
Below you can find several examples of wrapping paper. Have you seen something beautiful that suits your needs?
Help and advice
Do you have questions about a product or do you need help with your design? We like to help you!