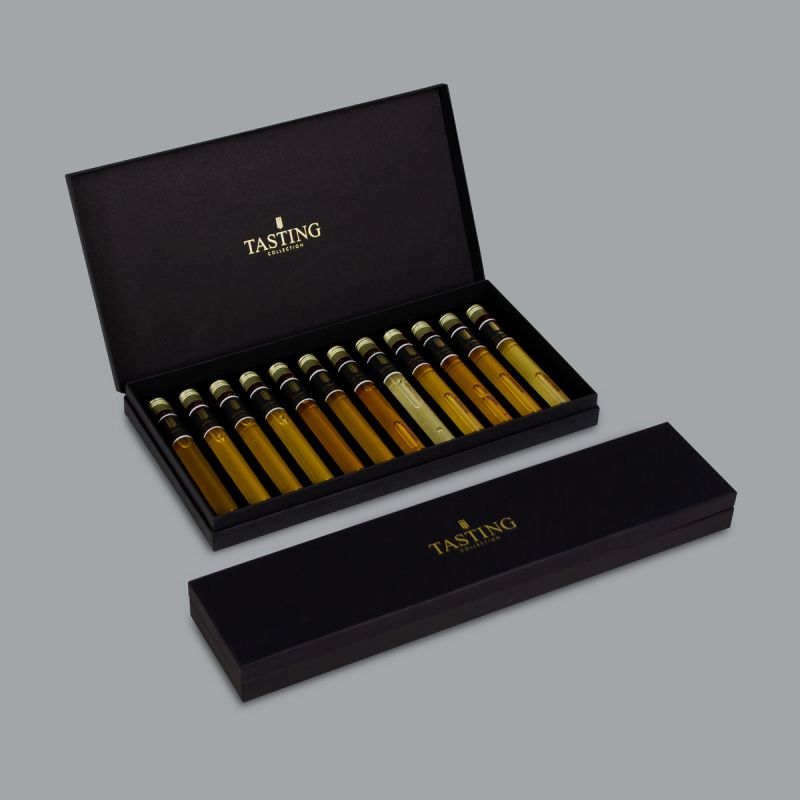 Printed hinge boxes custom made according to your wishes
Are you looking for a luxury box for presenting products? Or are you looking for an exclusive gift box for your products? Then choose our luxury hinged boxes. These boxes are perfect to use as a gift box and can be fitted with a custom inlay. Hinge boxes are available in all kinds of designs, materials and qualities and can be put together according to your wishes. Think of the size of the hinge boxes, the thickness of the material and the print. View all the possibilities of deluxe hinge boxes below.
5 advantages of hinge boxes
Hinge boxes can be completely customized to suit your products;
Hinge boxes can be printed in any PMS colour. Also, an image or full colour design is possible;
Hinge boxes are perfect to use for presenting your products;
Hinge boxes can be manufactured from FSC® certified material, which contributes to corporate responsibility;
Hinge boxes can also be produced in wood.

Prefer to order directly from stock?
Use of hinge boxes
Luxury hinge boxes are easy to use. You will receive the boxes ready to use. You only need to fill the hinge boxes with your own products. Luxury hinge boxes are used for various purposes. Think, for example, of whiskeys, herbs, teas, accessories, watches, car keys, (sun) glasses, cigars, jewellery or sample kits. The luxury boxes are available both with and without inlay. An inlay is useful if you want to present multiple products, but an inlay is also useful for a single product. All products stay neatly in place and the inlay protects the contents against falling or bumps. Because hinge boxes have a luxurious appearance, these boxes are often stored, reused and displayed in a visible place in the house.
Delivery time
With our own custom-made production, we can deliver your printed boxes within 10-12 weeks. This is possible from 500 pieces. Are you looking for a smaller edition or do you need a luxury box more quickly? Then look in our webshop for our alternative luxury boxes. Click here for our luxury boxes from stock.
Ecological hinge boxes
Is Corporate Social Responsibility important to you as a company? We manufacture these boxes from FSC® certified material. This way you support the responsible handling of our forests. The boxes can be provided with the FSC® logo on the bottom of the boxes so that customers can see that you are doing business responsibly. Would you like more information about environmentally friendly alternatives? Then please do not hesitate to contact us.
Material of hinge boxes
The luxury hinge boxes (model 4) are made of 800, 900, 1,000 or 1,200 grs. cardboard. The 1,000 grs. cardboard is the most common. The cardboard can be covered with different types of paper, such as embossed paper with a beautiful structure, duplex paper, coloured paper, 128 grs white Art paper or kraft paper in the colours white, brown or black.
Luxury hinge boxes can also be made of wood. This durable material gives your products extra attention value. Wooden hinge boxes can also serve as handy storage boxes.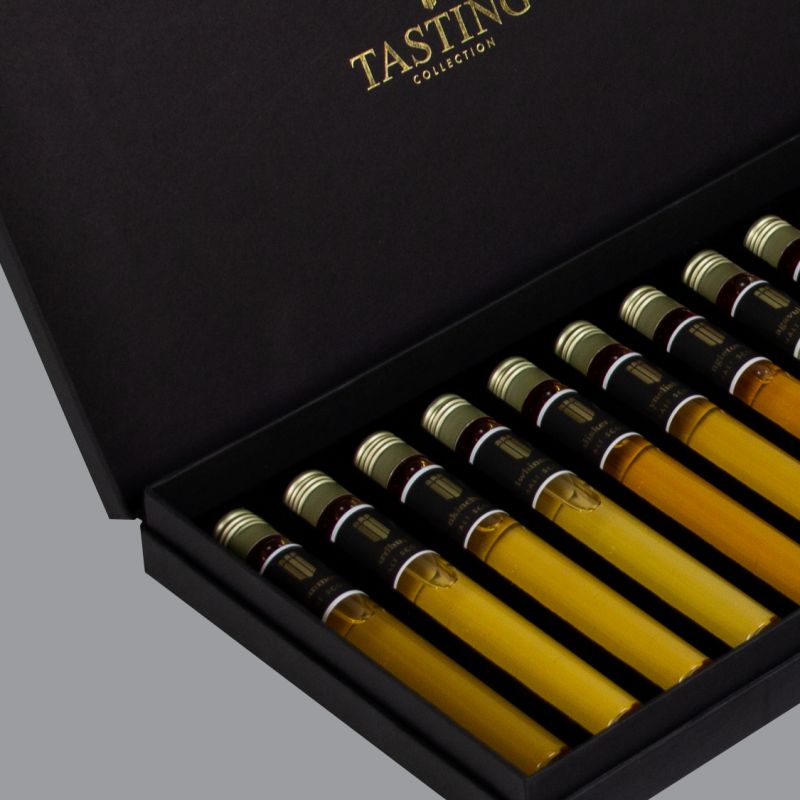 Printing hinge boxes
We produce custom made luxury hinge boxes in Asia. From 500 pieces, we can have the luxury boxes made in any desired size, thickness and finish. The luxury hinge boxes are printed by means of offset in PANTONE colours or in full colour (CMYK). The luxury hinge boxes can be printed on both the inside and outside. In addition to traditional printing techniques, we can also provide these boxes with Convex UV, embossing, flocking, Hotstamp or a SPOT UV. With each one of these techniques you can make the luxury boxes even more unique. We print wooden hinge boxes by means of screen printing or can be provided with a branding or engraving.
Models of hinge boxes
Hinge boxes are provided with a bottom and top, which are attached to each other by means of a hinge mechanism at the rear. The lid covers the box precisely, so that the boxes are nicely closed. To present the content, the lid can remain open on both sides by means of a ribbon. The hinge boxes are also extremely suitable for providing an inlay, such as a foam inlay. Because the boxes are delivered ready to be used, the inlay does not take up any extra space. You can finish the inlay in the way you want, and we adapt it to the product. The inlay can be finished with a velvet top, which contributes to a luxurious look.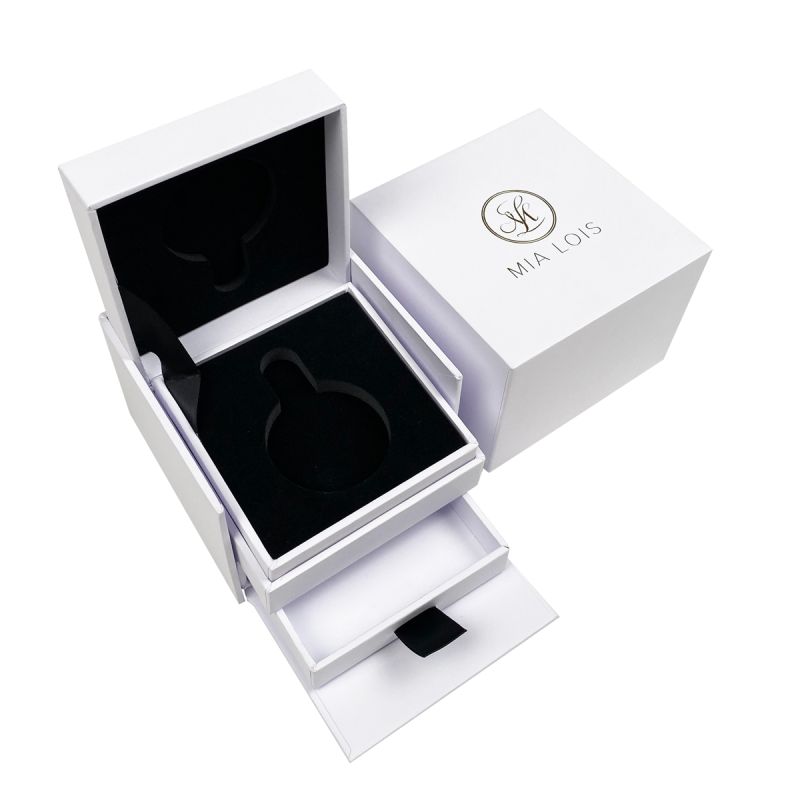 Order boxes directly
Do you need the luxury boxes quickly, or require only a small quantity? We have various luxury boxes in stock in different models and colours. We can deliver these luxury boxes directly from stock within 1-3 working days, both with and without printing. Click here to order your unprinted or printed luxury boxes directly.


Be inspired by our packaging
Below you can find several examples of hinge boxes. Have you seen something beautiful that suits your needs?
Help and advice
Do you have questions about a product or do you need help with your design? We like to help you!