Printed cotton pouches custom made according to your wishes
Are you looking for printed cotton pouches that you can use as gift wrapping? Take a look at our cotton pouches which we can tailor-make for you. Cotton pouches are a popular product due to their ECO look and are increasingly emerging as gift packaging. We can make the cotton pouches in any size for you, so that it fits perfectly around your product. In addition to the format, we can produce the material, the cords, the colour and the printing according to your wishes. View all options of the cotton pouches below.
5 advantages of custom cotton pouches
Cotton pouches are made of a soft material and protect your product;
Cotton pouches give an ECO look and provide an environmentally conscious appearance;
Cotton pouches are increasingly used as gift packaging;
Cotton pouches can be made in any size, material and colour;
Cotton pouches give a luxurious and environmentally conscious look to your product.

Prefer to order directly from stock?
Closure and cords of cotton pouches
Cotton pouches have an opening on one side to close the bag where a cord is inserted. The cords can be made in different versions. Consider a round drawstring or a flat cotton drawstring with a herringbone structure. Both options are available in all PANTONE® colours and can be matched with the pouch. The flat cotton cord can be printed with your logo or text. You can give an extra luxurious feeling to the pouch.
Delivery time
With our custom-made production, we can deliver these cotton pouches to you within 14-16 weeks. This is possible from 500 pieces in any size, colour, material type, finish and printing. Do you need the pouches faster? We have a number of standard sizes in stock. We can deliver these from our stock within 24 hours, both with and without printing. Click here to order our cotton pouches from stock.
Printed cotton pouches
The cotton pouches are printed by means of screen printing. This printing technique allows us to print your logo, text or brand in a full and opaque PANTONE® colour. Printed cotton pouches give your product or brand a luxurious and environmentally conscious look.
It is also possible to embroider your logo on the pouches. This gives your pouches a luxurious look.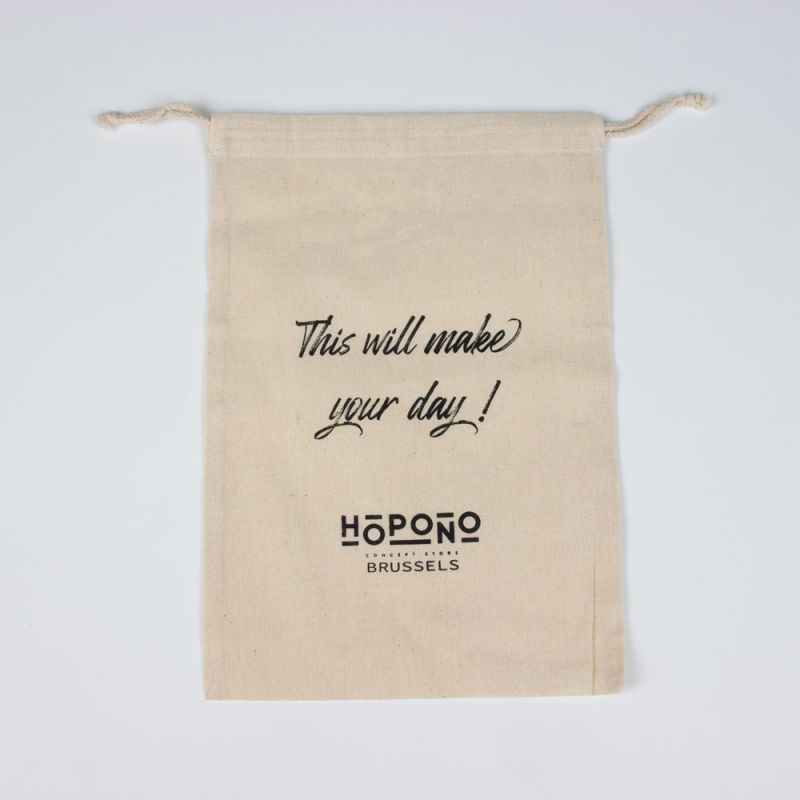 Material of cotton pouches
Cotton pouches are, as the word says, made of cotton. Cotton is a natural product from the cotton plant. The cotton can be produced in different grammages and is expressed in grams or OZ (ounce). The grammage that is most common for a cotton bag is 120 grams or 4 OZ. This is a grammage which is not too thick and therefore very smooth. In addition, cotton is also easy to dye in any PANTONE® colour, so you can style the bag completely to your liking. The material is also available in a more environmentally friendly option. Think of GOTS® or Fairtrade® certified cotton. These pouches are provided with a label, so that you can show that you have made an environmentally conscious choice.
Use of cotton pouches
Cotton pouches are mainly used as gift wrapping. We see this more and more in the cosmetics and jewellery industry. The bag protects your product by the soft material. Cotton pouches are used for wrapping shawls, belts, jewellery, watches, cosmetics, home accessories but also for a pair of shoes. The pouch can be closed on one side. This keeps your product neatly in the bag. We often see that the product is packed in the bag and given at the checkout in a paper bag or from the web shop in a shipping box. Because we produce cotton pouches in any size, you can use these gift pouches for small accessories as well as for larger products such as a pair of shoes or home accessories.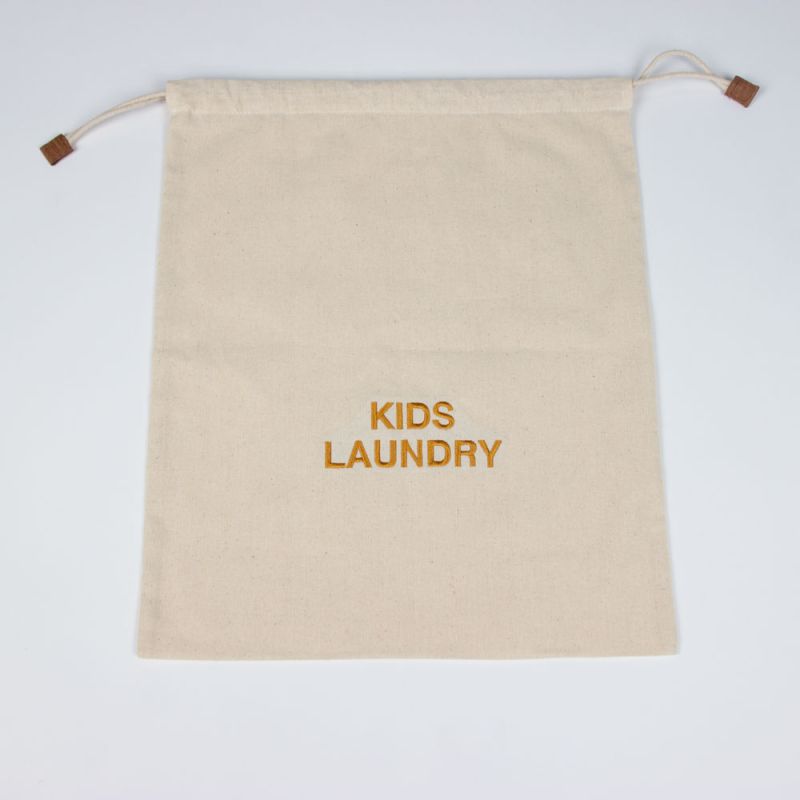 Order cotton pouches directly
Do you need the cotton pouches quickly, or require only a small quantity? We have cotton pouches in various sizes in our stock. These pouches have a round cotton drawstring. We can deliver both unprinted and printed cotton pouches within 24 hours. Click here to order your cotton pouches directly.


Be inspired by our packaging
Below you can find several examples of cotton pouches. Have you seen something beautiful that suits your needs?
Help and advice
Do you have questions about a product or do you need help with your design? We like to help you!