Printed custom made shipping boxes according to your wishes
If you are looking for a shipping box that fits your product, take a look at our custom-made shipping boxes. We can adjust it completely to your liking. Everything is possible, not only in terms of format, but also in terms of material, printing and finish. Because online sales are constantly increasing, the use of the shipping box is becoming more important. The shipping box is an ideal way to ship and protect your product. You can provide it with your own logo or design, making it a perfect match for your brand or company. An ideal marketing tool! Take a look at the different options below and see what suits you best.
5 advantages of shipping boxes
A shipping box protects your product and ensures that it arrives neatly;
A shipping box is an ideal way to package and advertise your product;
We can make shipping boxes in any size;
We can deliver printed shipping boxes within 48 hours;
A shipping box can be perfectly adapted to your product and can be printed as desired;
Prefer to order directly from stock?
Use of shipping boxes
The shipping boxes can be used in various ways. Consider a postal box that fits through the letterbox or a larger box for clothes or shoes. You can adjust the box to your desired size, making it suitable for any product. The material is strong and therefore protects your product. You can provide the box with filling material, so that you can use one size shipping box for multiple products. You can adjust the type of box you choose according to the usage. Do you ship many parcels in one day? Then choose a box with little actions. If you send less boxes, take a box with a little more actions, but a price that suits you. Are you curious about the possibilities? Please contact us, we will be happy to help you make the right choice.
Delivery time
We have our own custom-made production for shipping boxes. In this way we can offer you a perfect service. You can have the box produced entirely according to your wishes. Consider the size, material, thickness of the cardboard, finish and printing. We can deliver the custom-made shipping boxes to you within 10-12 weeks from 500 pieces. Need it sooner? No problem, we can shorten the delivery time by flying in a part at to 5-6 weeks. Do you need the boxes faster? Then take a look at our extensive stock. We can deliver these boxes to you within 1 to 2 working days.
Sustainable shipping boxes
All the cardboard we use for the production of the corrugated board is made from recycled material. In this way we want to contribute as much as possible to the environment, without compromising the quality and appearance of the shipping box. A shipping box consists of 100% paper except for the adhesive strips and can therefore be fully recycled after removing the adhesive strip.
As of September 1, 2021, we have taken a sustainable but also necessary step in the field of paper packaging. All newly produced paper bags and boxes that we import from outside the EU will be FSC® certified. With this step we work entirely in accordance with EUTR legislation.
Printing shipping boxes
The shipping boxes can be printed in several ways. We do this by means of screen printing or offset printing. Screen printing is often used when a logo or design in one colour can be printed on one side. In this way, a full colour is printed. When a colour has to be printed all over or a full colour image has to be printed, the printing is done in offset. This is one of the most commonly used printing techniques. With the offset printing technique, the printing is super sharp and we can print any image. This can be done on the inside as well as the outside of the shipping box.
In addition to PANTONE® colours or a Full Colour image, it is also possible to provide the box with a luxurious print finish. For example, a hot stamp, this is a glossy foil layer, available in many different colours. It provides your shipping box with a luxurious look and makes it stand out. It is also possible to provide the box with a SPOT UV layer on your logo. This is a glossy transparent layer that brings the focus to your logo.
Material of shipping boxes
A shipping box is made of corrugated cardboard. Corrugated cardboard consists of a wavy cardboard which is glued on the top and bottom against a straight layer of paper. In this way you get a strong material, which protects your product. The choices in material for shipping boxes are very large, so you can adapt this to your product. If you have a relatively light product, a single layer of corrugated cardboard is fine. If you have a somewhat heavier product, you can opt for 2 or even 3-layer corrugated cardboard. There are also different types of waves available, for example a wave that is close together, or a wave that is a bit further apart. We will advise you in this to achieve a beautiful end product. The top and bottom layers of the corrugated cardboard can be covered with brown, black or white paper. If you choose white paper, we can print it all-over in your desired Pantone® colour. This gives the box a unique look. We can provide the box with a varnish, which will help protect the colour and paper. You can also opt for a matt or gloss laminate. This can be done on the inside and outside of the box and gives the box a luxurious look.
You can also have the box produced in recycled or FSC® certified paper, this way you can make an environmentally conscious choice. FF-PACKAGING is FSC® certified and will provide the box with an FSC® number. This allows you to demonstrate that your shipping box is packaged in less environmentally harmful packaging and that you are making an environmentally conscious choice.
Models of shipping boxes
To keep it easy for our customers, we have chosen seven models which we can produce as a standard product. We can make any style and design, but often customers get overwhelmed with the options. A European organization, FEFCO (Federation of Corrugated Board Manufactures), has been set up to produce different models of shipping boxes. FEFCO has a universal system in which all standard box types are described. Many of the cardboard packaging has a FEFCO number. A number of our standard models are provided with a FEFCO number. Below the seven models are further explained, take a look to see which one suits you best.
Model 1 - Express shipping box - FEFCO 0427
This model is one of the most common boxes. We can produce this model for you in any format. Think of a letterbox format, but also a box for a large winter coat. This type of box is also widely used as a food box for take-out or catering companies. The model is delivered flat and must be folded together. It closes at the front by means of two flaps. To completely seal the box you could use a label with your logo and tape it to the lid.

Model 2 - Luxury express shipping box - FEFCO 0429
The deluxe express shipping box is a type which, as the name suggests, is very similar to model 1. The folding method is the same and this shipping box can also be produced in any size. The box is provided with 2 permanent adhesive strips and a perforation line on the lid. This means that you do not have to put an extra sticker on the lid to close the box. In addition, this shipping box is very suitable for return shipments due to the double adhesive strip. This makes this box very customer-friendly and service-oriented.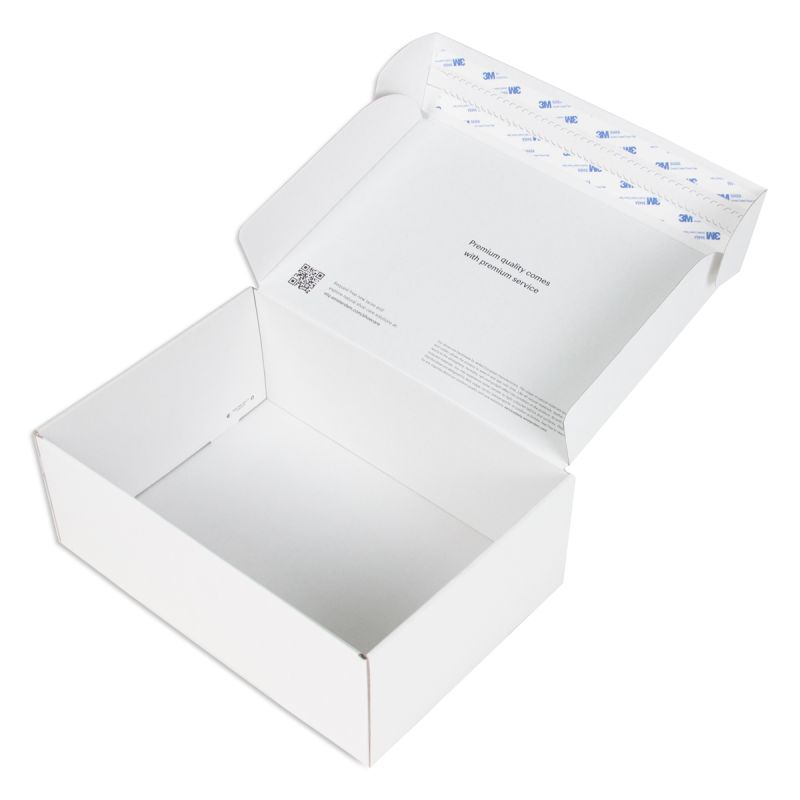 Model 3- American folding box - FEFCO 0201
The American folding box is one of the simplest shipping boxes. This is very suitable for larger packages, but also for shipping shoe boxes. Because as little extra material as possible is used, this is one of the most economical options for a shipping box. You do need to seal the box with tape. We can supply the tape from 36 rolls in white, transparent or paper tape.
Model 4 - Postal box
This model is a box which is very suitable for a letterbox package. We can supply it in any size, but it works best when using a letterbox format. A perfect box for sending small products. This keeps shipping costs as low as possible. The box is provided with an "easy top flap" on both sides. This is an extra cover which is slid into the side. In this way the box is closed properly, and you do not need to use extra tape or label to close the box.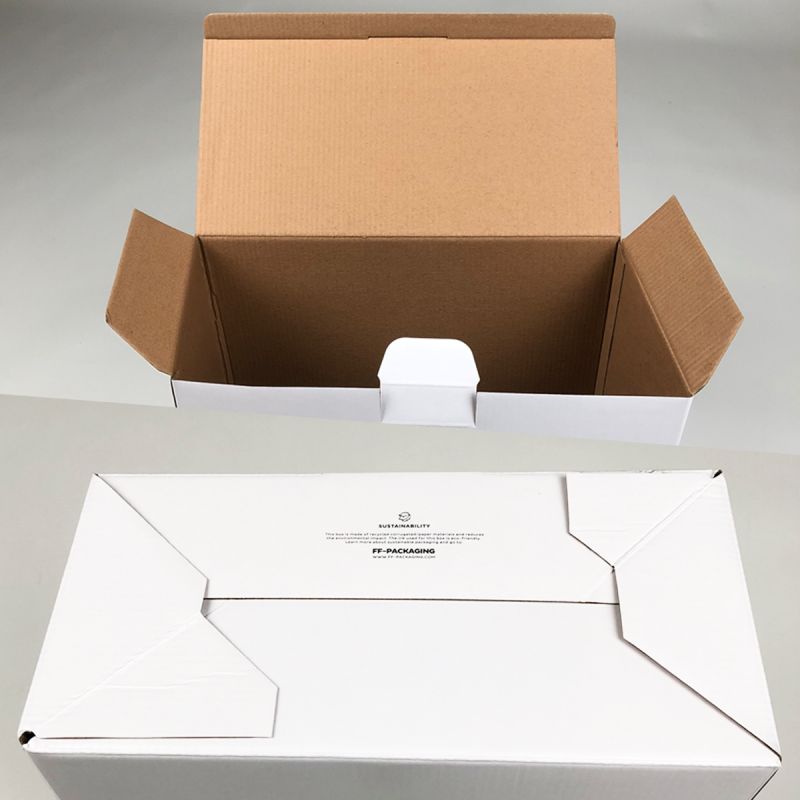 Model 5 - Autolock shipping box
The autolock shipping box is an ideal box for shipping shoes and boots. We can make it exactly fit to your product. The auto-lock bottom makes the box easy to fold. The box can be set up in an instant and is immediately ready to be filled. The "easy top flap" on the top secures the box and the box is ready for immediate shipment. This is a perfect box when you pack a lot of packages and want to spend as little time as possible on the handling. It is also possible to provide these shipping boxes with an adhesive strip on the top.
Model 6 - Luxury auto-lock shipping box
This type of shipping box is a box that is provided with an auto-lock bottom and a flap on the top of the box. The valve is provided with two permanent adhesive strips and a perforation line on the top. Because the box is equipped with an auto-lock bottom, you save a lot of time setting up the box.
Model 7 - luxury auto-lock shipping box with Easy Top
This type of shipping box is a box that resembles model 6 but has an easy top at the top. These are two valves which cover each other. This makes the box extra theft proof. An adhesive strip can be attached to both valves, so that this box is also suitable for return shipments. The box has an auto-lock bottom, making it easy to use.
Order shipping bags directly
We have a wide range of shipping boxes in our stock. We have different sizes, from a small box of 22 cm wide to a large parcel box with a width of 61 cm We have this in stock for you in various colours, in brown, white and black. In addition, we also have a large number of letter boxes in stock, in 8 different colours! We can print all these shipping boxes with your logo in both screen printing and digital printing. This means that you can provide the box with your logo, but also a CMYK image on the top. We can deliver these boxes to you within 24 hours. Do you need a small quantity? No problem, you can order these boxes from 25 pieces.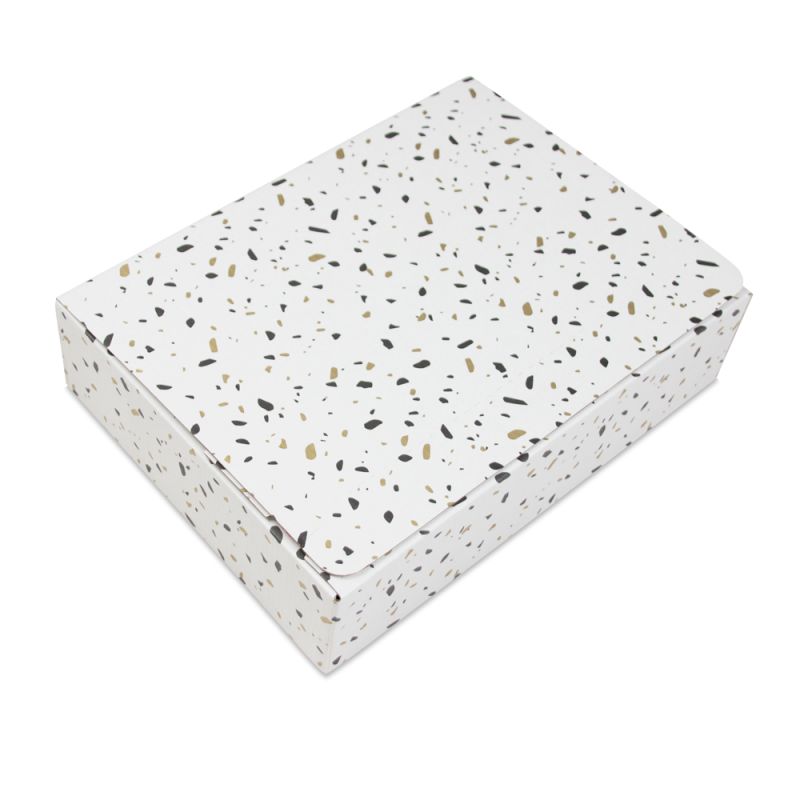 Be inspired by our packaging
Below you can find several examples of shipping boxes. Have you seen something beautiful that suits your needs?
Help and advice
Do you have questions about a product or do you need help with your design? We like to help you!