Custom made gift cards according to your wishes
Are you looking for gift cards or gift vouchers that you can use in a functional way? Or are you looking for a pass that can be used as a key card in your hotel or holiday park? Then choose our tailor-made gift cards. The cards are made in a standard bank card format, so that they can easily be placed in the wallet. We also supply specially tailored boxes and folders with an inlay that fits the gift card perfectly.
5 advantages of gift cards
Gift cards / key cards are easy to keep in a wallet;
Gift cards / key cards can be executed in many ways, such as a magnetic strip or with a QR code;
Gift cards / key cards are water resistant;
Gift cards / key cards can be easily topped up with credit and can also be reused more often;
Gift cards / key cards are nice to package in a luxury gift card box or holder.


Use of gift cards / key cards
Gift cards are used as a gift where the gift card is charged with a credit chosen by the customer which the recipient can spend in your store. Optionally, it is possible to provide the gift cards with a unique barcode or QR code so that the card can easily be scanned at the checkout. Whether you have an online webshop or a fashion store, the gift card can be used for any purpose. In addition, these cards can also be used as a keycard to provide access to a closed space, such as a hotel or holiday home or company. This can be done by providing the key card with a magnetic strip which can be held against the key card lock to gain access to the closed or secured area.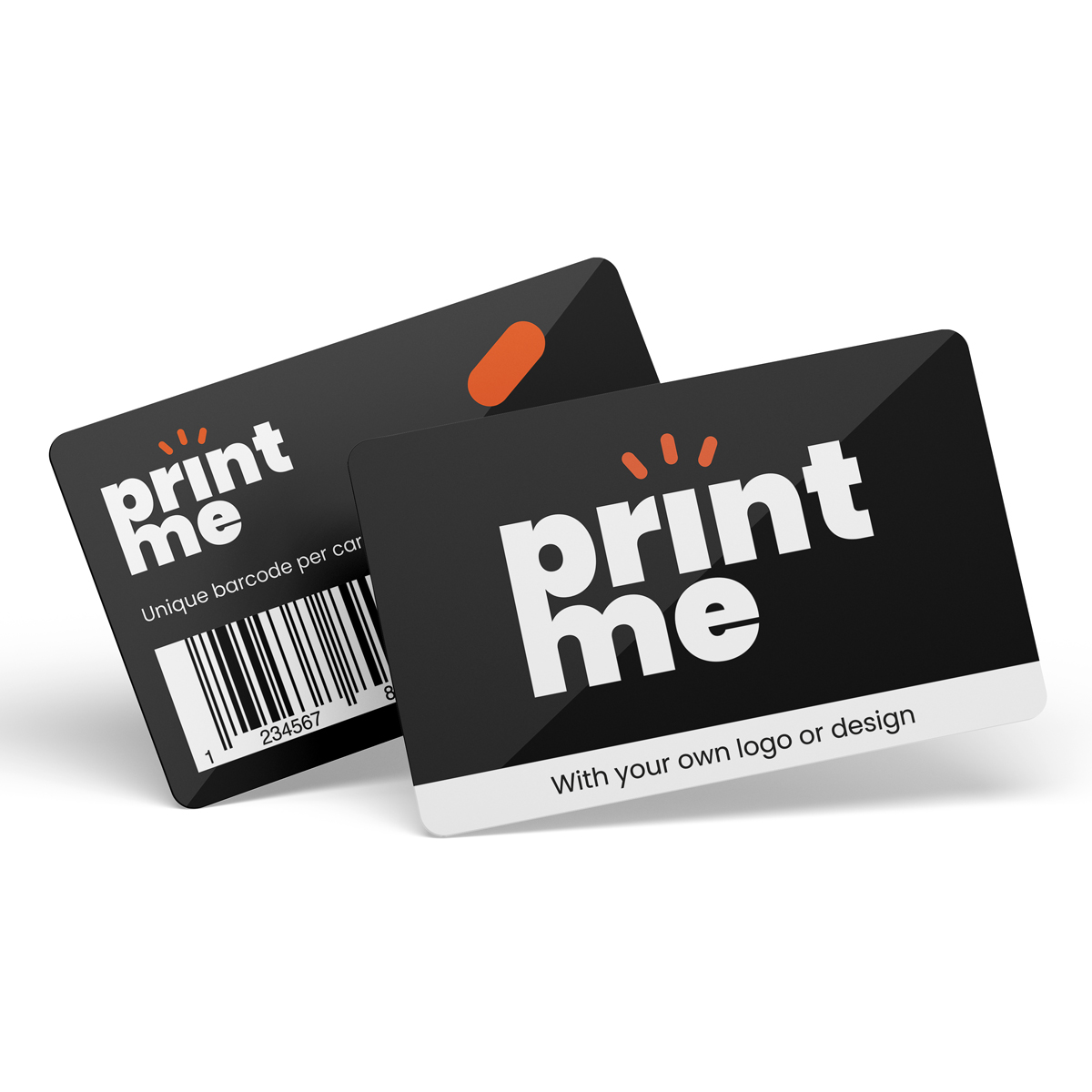 Delivery time
Because we have our own production for gift cards, we can deliver them within 12 working days. The minimum print run for this production is 250 pieces. Do you need the gift cards within a certain period? Please feel free to contact us to discuss the possibilities.
Sustainable gift cards / keycards
By choosing a gift card, you choose a sustainable voucher and / or a reusable key. You can top up the gift card with a certain amount and you can also choose that the card can be recharged later with a certain credit. For example, the customer can use one gift card several times, this is an ecological alternative to paper gift cards. The magnetic strip on keycards can be erased and provided with new information for your next guest, visitor or employee.
Material of gift cards / key cards
The gift cards / key cards are made of 0.76-micron plastic material. This is a strong quality similar to what you are used to from a bank card. This smooth material is easy to print and easy to use. The plastic material is water-resistant, so in case of rain or when your wallet falls into a pool of water, the gift card will not absorb water. Depending on the chosen laminate, the gift card has a glossy or matt appearance.
Have gift cards / key cards printed
The gift cards or key cards can be printed with your logo. The printing technique used is offset printing and the design is always printed in full colour. The minimum print run for these cards is 250 pieces. The standard size of the card is 85.6 x 54 mm.
Finishing of gift cards / key cards
Various designs of gift cards are available. You can opt for a gloss or matt laminated version. For a more luxurious finish you can opt for a spot UV, this is a transparent glossy layer that is applied to your logo or text. Do you want a truly exclusive gift card? The gift cards are also available in gold or silver material. We can also provide a writing area on the back of the card for a personal message or information. If you want to hide the code of the gift card, choose a scratch layer which the customer must scratch open himself. It is also an option to choose a HiCo magnetic strip. Data can be placed on the magnetic strip, which can then be read via a magnetic card reader.
Be inspired by our packaging
Below you can find several examples of giftcards. Have you seen something beautiful that suits your needs?
Help and advice
Do you have questions about a product or do you need help with your design? We like to help you!