Printed cotton rucksacks custom made according to your wishes
Are you looking for printed cotton rucksacks for your store, event or web shop? Then choose a cotton rucksacks which we can custom make for you. These bags are ideal to give at an event. The bags are easy to carry, made of strong material and can take a beating. You can assemble and finish these cotton rucksacks as you wish. The cotton rucksacks are ecologically sound. We can also supply these cotton rucksacks Fairtrade® or GOTS® certified. View all versions and options for the cotton rucksacks below.
5 advantages of cotton rucksacks
Cotton rucksacks are environmentally friendly and reusable;
Cotton rucksacks are very strong and last a long time;
Cotton rucksacks are fully customizable and can be produced in any finish and desired colour;
Cotton rucksacks bags are available in Fairtrade® or GOTS® certified cotton;
Cotton rucksacks are ideal for your event, your customer can easily carry them with them all day long.

Prefer to order directly from stock?
Use of cotton rucksacks
The use of cotton rucksacks has a number of advantages. Cotton is a strong material. The cotton rucksacks is minimally damaged and retains its strength after repeated use. When you sell or give away a cotton rucksacks, you will regularly see the bag in the street. This way the user can enjoy this for a long time and the bags are reused. The cotton rucksacks exudes an ECO look and is an environmentally conscious choice.
Delivery time
With our own production, we can deliver custom canvas bags within 14-16 weeks. The minimum edition for the custom-made production is 500 pieces. The bags can be assembled and designed according to your wishes during production. It is possible to receive a sample of the bag in advance, so that you know for sure which product you will receive. In addition, it is possible to ship the bags by airplane. The delivery time is 7-8 weeks. You can save a lot of time with this. Please do not hesitate to contact us for more information.
Ecological cotton rucksacks
Cotton or canvas rucksacks are made from a natural material, cotton. This can be done in your desired grammage. The most common option for this is 180 grams of cotton. These rucksacks have a long lifespan, which makes the rucksacks very durable. Cotton is 100% recyclable. We can also supply the printed cotton rucksacks with a Fairtrade® or GOTS® certificate. By choosing a cotton rucksacks with one of these certificates, you can show your consumer that you are doing business in a socially responsible manner.
Material of cotton rucksacks
There are several options for producing and printing cotton rucksacks. You can design and assemble the rucksacks yourself from start to finish. In terms of material you can choose different grammages. The most common option for a rucksacks is 180 grams. This is sturdy material, but still flexible enough to carry the bag on the back. The thickness of the canvas material is often in OZ (ounce). For example, 180 grams of cotton is 6 OZ (ounce) of cotton. It is possible to colour the cotton; this is done with a water-based paint in order to be environmentally friendly. It is possible to produce the cotton rucksacks in any PANTONE® colour. This also applies to the pull cords.
Printing cotton rucksacks
Cotton rucksacks can be printed in all PANTONE® colours by means of the screen-printing technique. It is also possible to match the printing colour with one of your other products. In addition, it is also possible to print in full colour by means of transfer, digital print or sublimation printing. You can choose this if you want an image or a detailed print to be printed.
Screen printing
Screen printing is the most commonly used printing technique for printing cotton bags. Only printing with full PANTONE® colours is possible. The advantage of screen printing is that this printing technique ensures a colourfast and good covering print. The PANTONE® colour can also be printed well on a coloured background because the ink is quite thick on the bag.
Transfer printing
With transfer printing it is possible to print a full colour image or logo on the cotton bags. First, the design is printed on foil and this is then applied to the bag. This makes the printing tangible.
Sublimation printing
Sublimation printing is only possible on white polycotton material. The material is made of 80% cotton and 20% plastic. The great advantage of sublimation printing is that with this printing technique a full colour image can be printed perfectly on the cotton material. This print cannot be felt and is suitable for the washing machine.
Digital print
With digital print, the cotton bags are printed in full colour in high speed. This can be done on both natural ecru cotton and white coloured cotton. The colours are less bright and a bit fainter than with the above printing techniques. The biggest advantage is the speed of digital printing. The colour of the material affects the print. With a non-white background, the print will saturate with the colour of the material.
Models of cotton rucksacks
The cotton rucksacks can be executed in different ways. You can put it together exactly as you wish. In terms of format, 40 x 50 cm is often chosen. At the top, the bag is provided with a cover with a drawstring. This allows you to close the bag at the top. The bag is often provided with two cotton cords, with which you can put the bag over your shoulders. The cords are knotted in two eyelets in the bottom, these are rings that are attached in the cotton. This ensures that the handles remain firmly attached. These are available in different colours.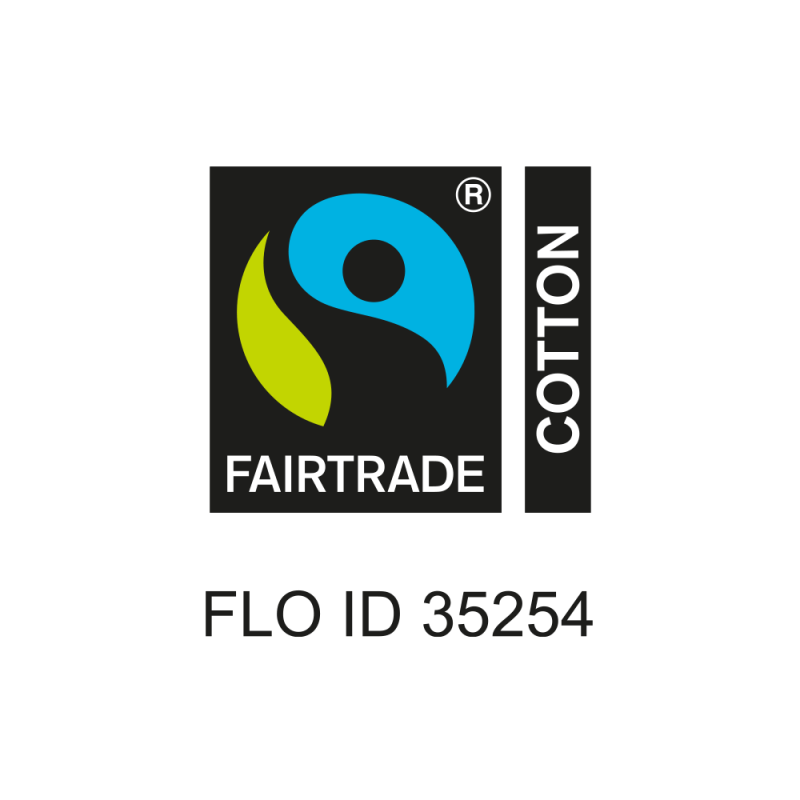 Fairtrade® certified cotton
We have been Fairtrade® certified since 2016. Our certificate number is: FLO ID 35254. By choosing a cotton or canvas bag with a Fairtrade® certificate, you help farmers and workers in developing countries to get a better place in the supply chain. The farmers and workers receive a fair price for their products and activities. Below you will find a video in which you can see what Fairtrade® exactly entails.
GOTS® (Global Organic Textile Standard) certified cotton
By ordering canvas or cotton bags with a GOTS® certificate, you choose organically grown cotton or canvas. The fabrics are made from natural and organic fibres. The production of the cotton conforms to organic farming. In addition, the water used for the production of the material is purified and disposed of in a neat manner. This organization also keeps an eye on the social criteria. This means, for example, no child labour, compliance with the minimum wage and a safe working environment for the workers. Below you will find a video in which you can see what GOTS® means for our production.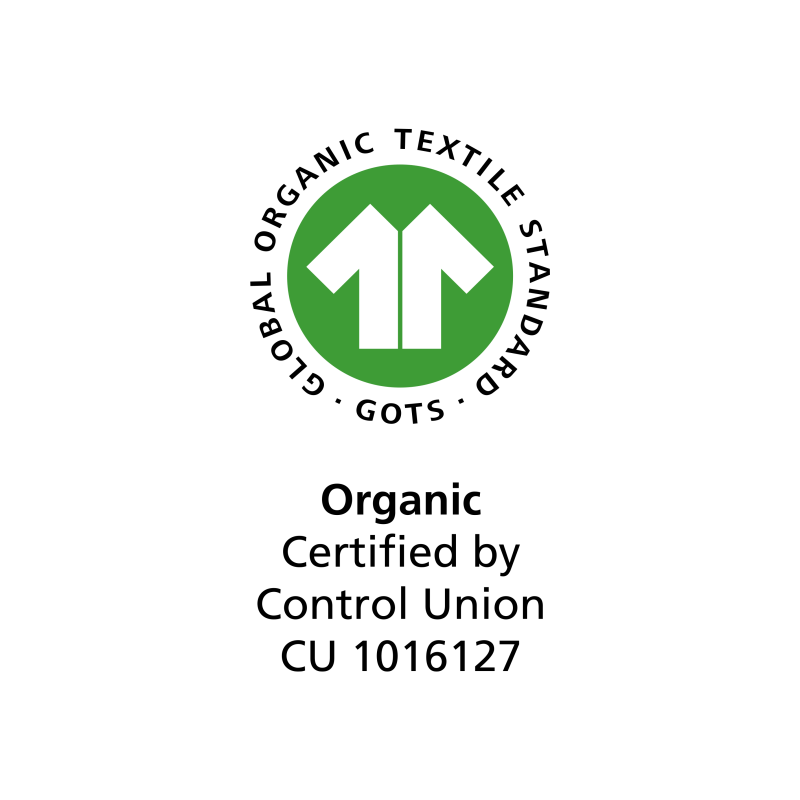 Order cotton rucksacks directly
Do you need the cotton rucksacks delivered quickly or require a small order amount? We have these bags in stock and can deliver these bags printed from 100 pieces. The size of this bag is 40 x 50 cm. and is made of 180 grams ecru cotton. We can print these rucksacks with your logo within 1-3 working days and deliver them to you.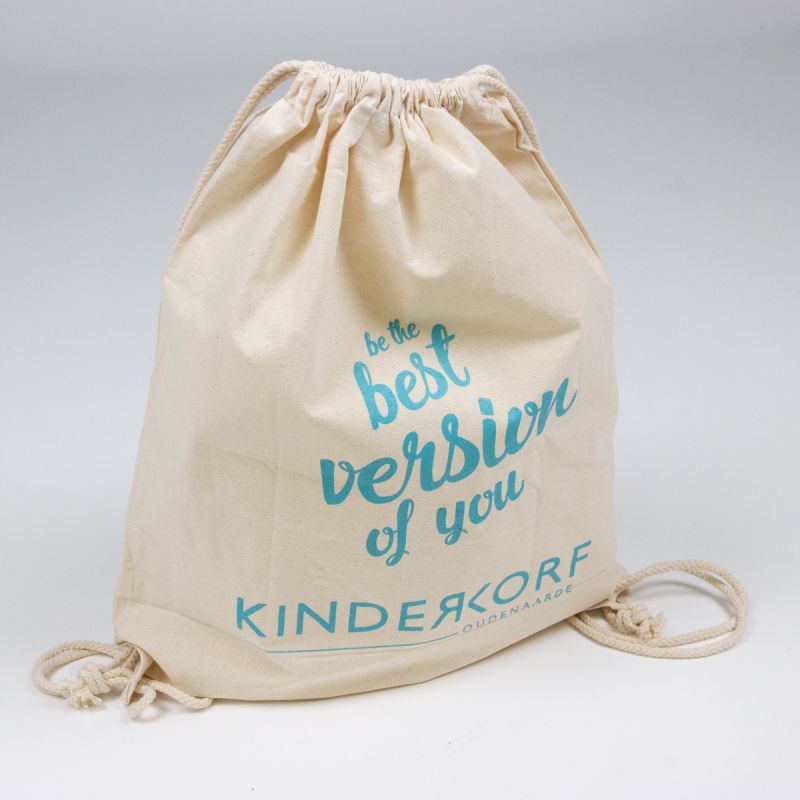 Be inspired by our packaging
Below you can find several examples of cotton rucksacks. Have you seen something beautiful that suits your needs?
Help and advice
Do you have questions about a product or do you need help with your design? We like to help you!