ZEROTREE®
More and more people see the importance of sustainable and responsible entrepreneurship while keeping an eye for people and the environment. Trade marks have been created in order to make a responsible choice in this regard. We with FF-PACKAGING find it important that the products in our range are produced under the right conditions. We carry therefor the following trademarks: Fairtrade®, GOTS® and FSC®.

We believe that as a leading supplier of carrier bags and packaging, we should go one step further. That is why we have our own trademark, ZEROTREE®, for years already. You may have seen this name before, but what does ZEROTREE® actually stand for? We will explain this briefly below. ZEROTREE® is our internationally registered brand name.

Literally translated the name ZEROTREE® says what this means: zero tree, or "no tree". No trees are cut down during the production of ZEROTREE®. The "paper" used for ZEROTREE® is made from other materials.
Natural resources
ZEROTREE® is made from handmade paper that consists of natural raw materials such as banana leaves (abaca), grass fibers, straw or recycled cotton residues from the textile industry. The cords are made of jute fibers. Because of the use of natural materials, ZEROTREE® has a natural and sustainable appearance.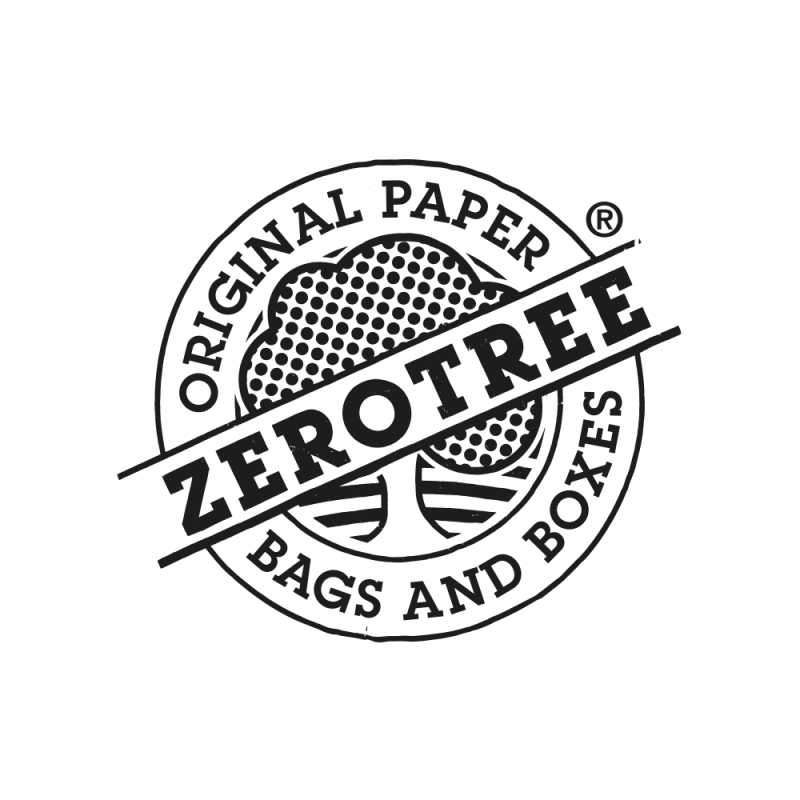 Social and ecological
ZEROTREE® makes a social contribution to the local population in India and the Philippines. ZEROTREE® creates jobs that give employees a fair salary. The money that is earned can be invested in education and contributes to the maintenance of families. The labor process is also free from child labor and care is taken to ensure that employees do not work excessive hours. Because no trees are felled, ZEROTREE® makes a positive contribution to conservation and life in and around forests. The end result is a recycled, sustainable bag, shipping box or luxury gift box that was created under socially and ecologically responsible conditions.

Brand name
Our brand name ZEROTREE® is internationally registered under number: 018638881.
Choose ZEROTREE®
By choosing ZEROTREE® you show that you want to reduce logging and pay attention to life in and around the forests.
We have been offering ZEROTREE® for years and have thus put a positive spin on responsible forest management. With this we have gained the necessary knowledge for a correct and smooth processing of your order.
We deliver
ZEROTREE® bags
,
luxury boxes
and
shipping boxes
. Completely custom-made or directly from stock. These are available in various colours including brown, grass-green, jeans-blue or white. It is also possible to colour the material with natural inks in a colour of your choice.
Curious about the possibilities? Request a free quotation or contact us by phone.