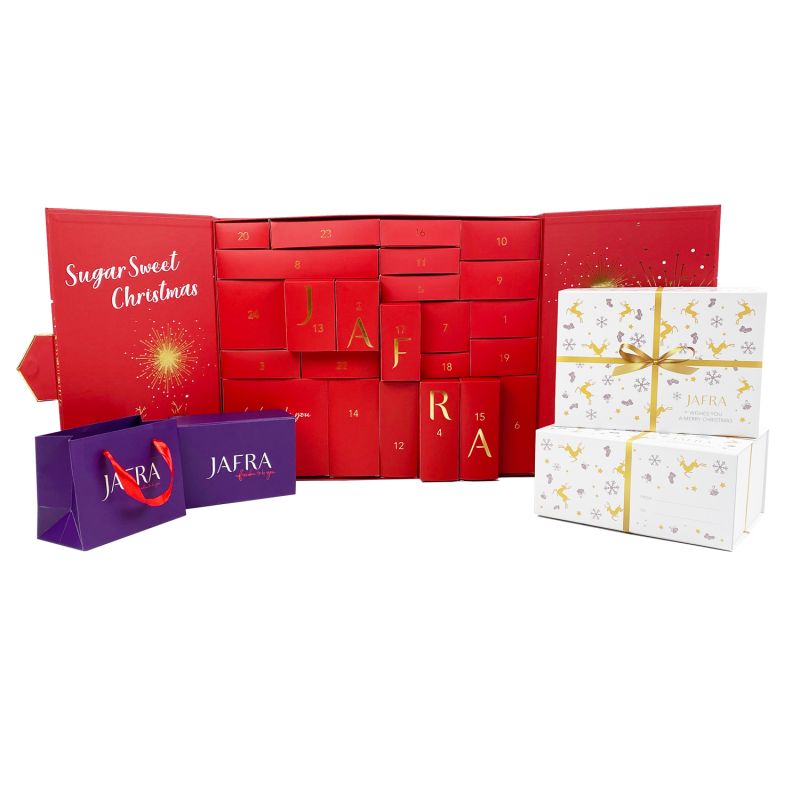 Printed Christmas boxes custom made according to your wishes
Are you looking for a gift box to use during the Christmas season? Have a look at our options of different Christmas boxes. We can supply Christmas boxes in any size, print and finish. This can be a beautiful gift box as well as a Christmas hamper, a Christmas box that you sell with content in your store or even an advent calendar. We can assemble this exactly according to your wishes, so that you have a unique Christmas box. Are you curious about the possibilities? Take a look below.
5 advantages of Christmas boxes
An ideal way to package your product in an original way;
A Christmas box gives extra luxury and value to your product;
We can produce these Christmas boxes to custom made for you from 500 pieces;

We can deliver Christmas boxes within 1-3 working days due to our wide range;

Christmas boxes are perfect gift packaging and can be put together according to your wishes;

Prefer to order directly from stock?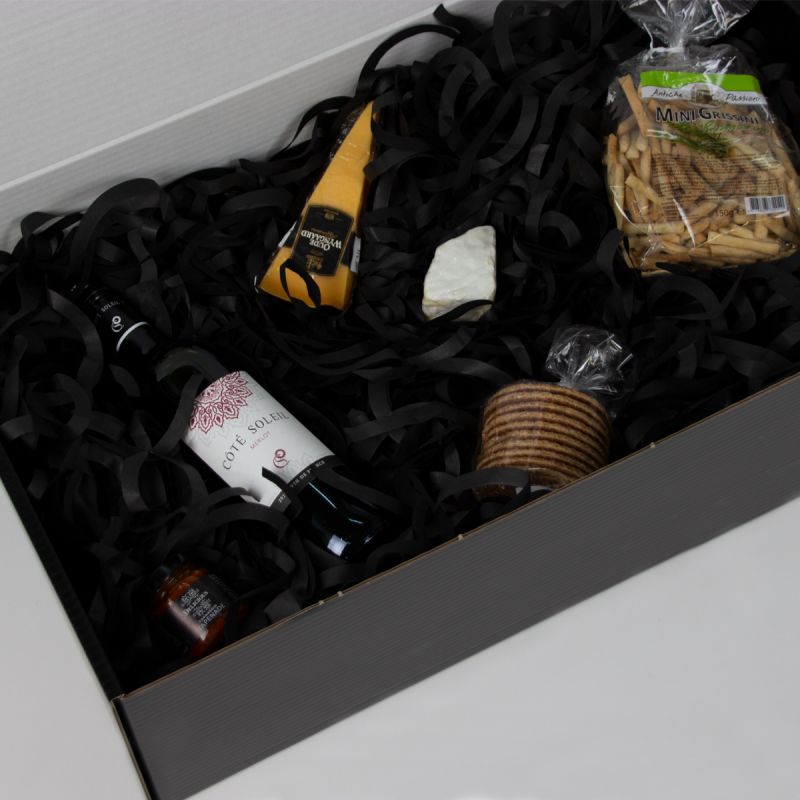 Use of Christmas boxes
Christmas boxes can be used in many ways. For example, as a Christmas hamper for your employees or customers. You can order this as a total package including the products you sell. Or consider beautiful gift boxes containing the delicacies from your store or make beauty packages that can be given away as a Christmas present during Christmas. The use of a gift box turns your products into a real gift and will complete your package. In addition to gift boxes, we can also make advent calendars. This can be done in many different ways and forms. Advent calendars are getting more and more popular every year. You can sell these in your store or webshop and package your products in it.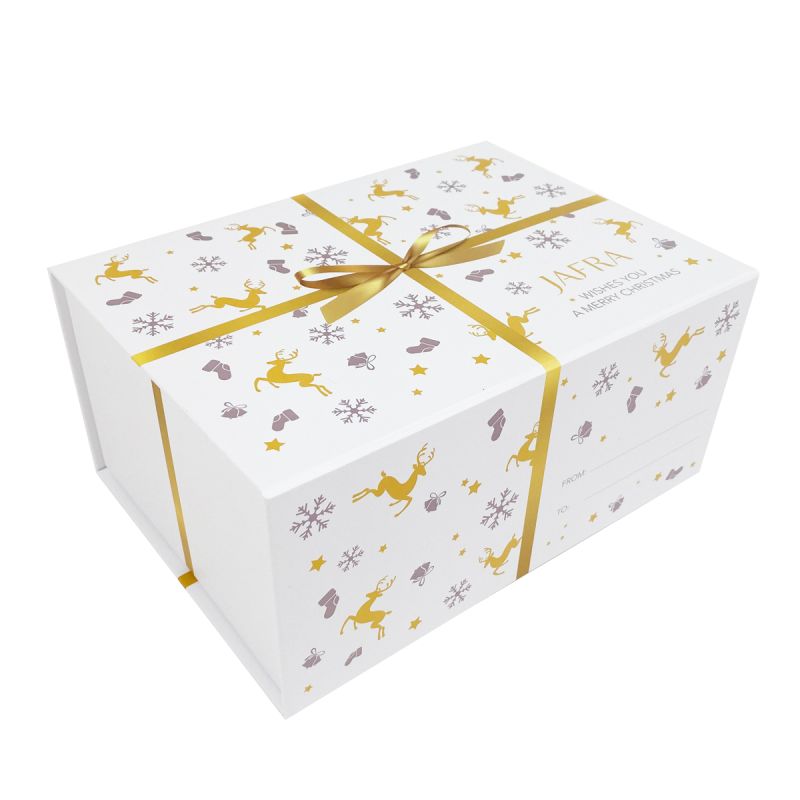 Delivery time
With our own production, we can produce these luxury boxes custom made for you from 500 pieces. We can deliver these boxes within 10-12 weeks. These boxes are composed and printed entirely according to your wishes. Everything is possible here, any finish, colour or size. Do you have less time or are you looking for a smaller quantity? Then take a look at our wide range of Christmas boxes in stock which we can print for you. We can deliver these boxes to you within 1-3 working days.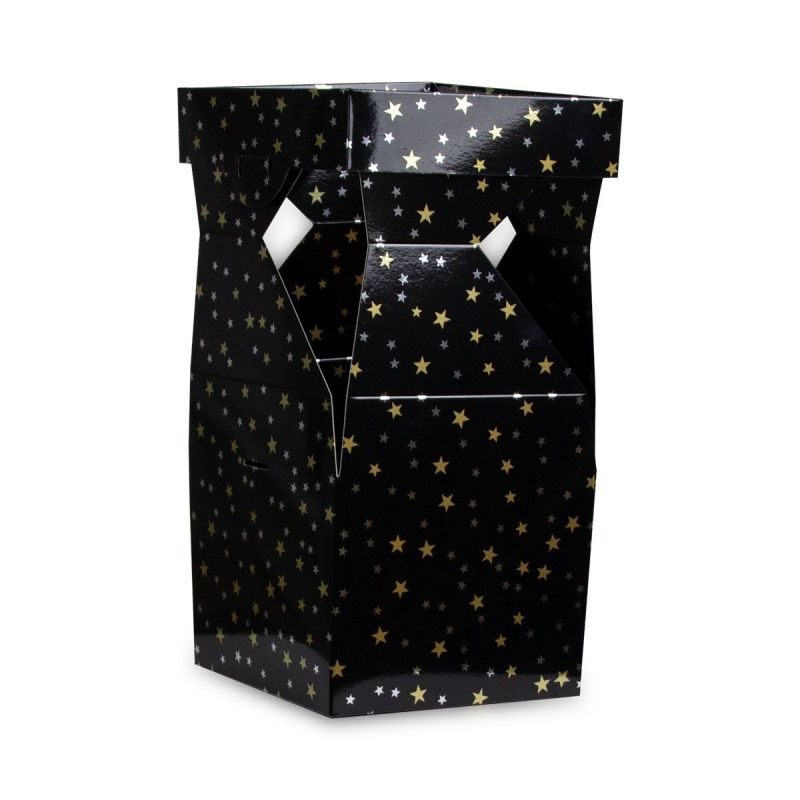 Christmas box version
Christmas boxes can be made in many different ways. For example, you can opt for a box with a loose lid, a magnetic box or a pull-out box. These are not the only possibilities; we can make any shape and design for you. Together with you we will look at a gift box that best suits your needs and your product. Each type of box has its own finish and design, so that it can be put together perfectly according to your wishes.
Custom printed Christmas boxes
These Christmas boxes can be printed in different ways. This depends on the design and appearance you have chosen. When printing on the entire box, an offset printing technique is chosen. This is a digital way of printing with which we can print sharply and accurately. For example, you can print a photo or image on the entire outside and inside. If you prefer only a logo on the top of the box, we opt for a screen-printing technique. This is a printing technique with which all PANTONE® colours can be printed. This technique produces full printing colours that are clearly visible. Would you like to give the printing some extra luxury and appearance? Then we have extra options for this. Consider a hot stamp on the logo, this is a metallic foil that is printed on the logo which gives a shiny and chic look. You can also opt for a SPOT UV on some parts of the artwork, for a glossy finish. Are you curious about the many luxury options? Please contact us so that we can show you the different options.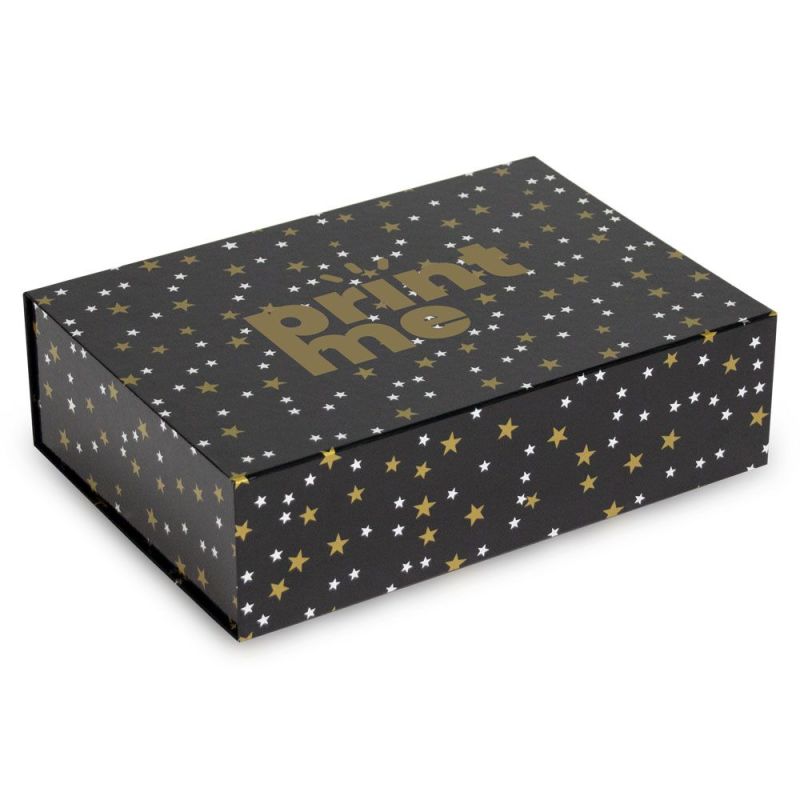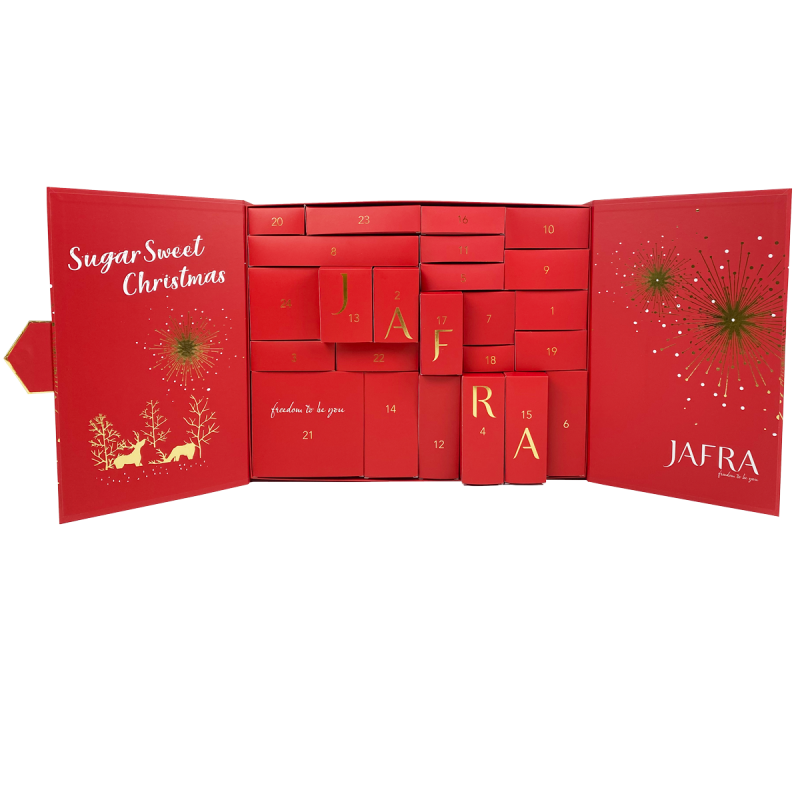 Material of Christmas boxes
The material of the Christmas boxes is adapted to the size and wishes of you as a customer. The most common grammage for a gift box is 1,200 grams of cardboard. This cardboard is covered with paper on both sides. This can be coloured kraft paper, but also paper that is provided with a matt or gloss laminate. In addition, you can choose to work with embossed paper, which is paper with a structure in it. You can choose this structure yourself. We also have ZeroTree® paper available. This is paper that is not made from trees, but for example from straw. You can also see these fibres in the paper, this gives an ECO look which is very popular at the moment. Everything is possible, so that the boxes can be put together according to your wishes and meets your demands.
Sustainable Christmas boxes
The Christmas boxes are made of paper and are recyclable. We are FSC® certified and can supply all our gift packaging in FSC® paper. For every tree that is cut for producing paper, a new tree is planted back. In this way the cycle is maintained, and no trees are lost. In addition, you can opt for recycled paper and cardboard, so that no new raw materials are needed for the production of the Christmas boxes. We have also developed ZeroTree ® paper. ZeroTree® is our own official registered trademark. By using this paper, you ensure that no trees are used. This paper is made from natural raw materials such as banana leaves, straw, grass or cotton fibres from the jeans industry. An ideal way to give your gift packaging an ECO look without compromising the look of the Christmas boxes.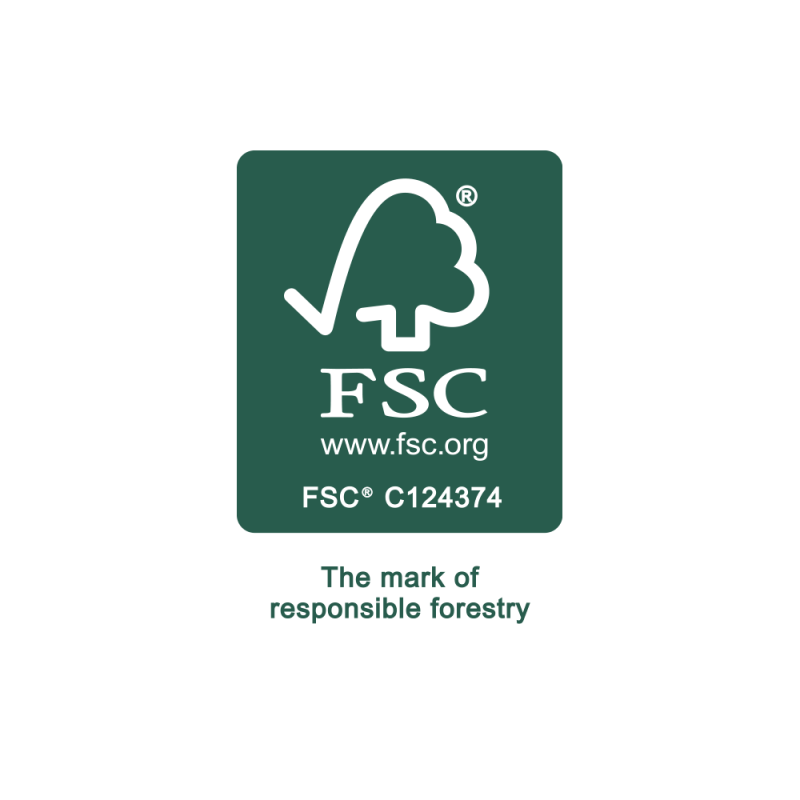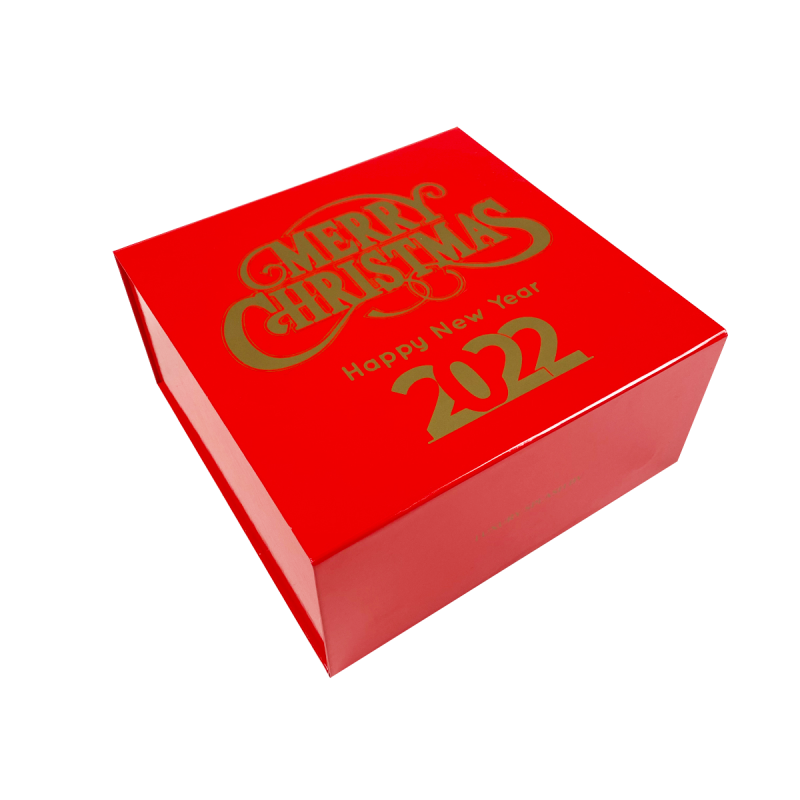 Order Christmas boxes directly
We have a wide range of luxury gift packaging in stock for you. Do you have less time and need the Christmas boxes as soon as possible? Then take a look at our webshop. We can deliver these boxes within 1-3 working days and print them with your logo or image. This is possible in screen printing as well as in a Full Colour® image. In addition, we have a large number of standard designs available in our webshop, which we can deliver to you.


Be inspired by our packaging
Below you can find several examples of Christmas boxes. Have you seen something beautiful that suits your needs?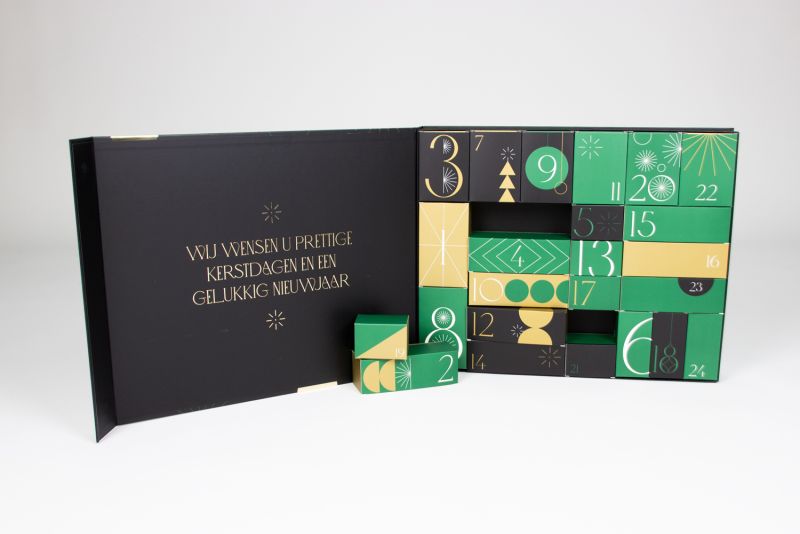 Help and advice
Do you have questions about a product or do you need help with your design? We like to help you!