Printed PP woven shopping bags custom made according to your wishes
Do you want to print reusable PP woven shopping bags with your own logo or design? Then choose custom PP woven shoppers. You can compose your PP woven shopping bags according to your wishes. Think of the size of the bag and the colour of the loops and trims. Because these shoppers will often be reused, this can be called a sustainable bag. Do you prefer ecological PP woven shopping bags? Then the RPET shoppers are a good option. The raw material for the RPET Woven shopping bags is made from PET bottles.
5 advantages of PP woven shopping bags
PP woven shopping bags are very strong and durable because the bag is often reused;
PP woven shopping bags are rain resistant;
PP woven shopping bags are fully customizable to the style of your product or company;
PP woven shopping bags can be produced in any desired size and in all kinds of designs, such as a shoulder bag;
We can supply PP woven shoppers from 500 pieces in any size.

Prefer to order directly from stock?
Use of PP woven shopping bags
PP woven shopping bags are often used as a big shopper for groceries or as promotional material at a trade fair or other event. The strong PP woven material ensures that the bag will be reused often. The shoppers are provided with soft webbing loops or loops made of PP woven material. The material is surrounded by a PP woven band which can be printed in any desired PANTONE® colour. Do heavy products go into the PP woven shopping bags? Then it is advisable to opt for a bottom inlay. PP woven shopping bags are printed from stock from 100 pieces. In addition, these shoppers are custom made from 500 items.
Delivery time
With our own custom production, we can deliver PP woven shopping bags within 2-12 weeks. The delivery time depends on the edition, printing and material. The custom-made shoppers are printed from a roll, making it possible to fully print the shopping bags. You can also determine the format yourself. With screen printing from stock, we print on an existing PP woven carrier bag, so that only a logo on one or two sides is possible.
Model of PP woven shopping bags
The PP shoppers are usually provided with webbing loops, this is a soft material that is pleasant to carry in the hand or over the shoulder. We recommend a length of 50 cm for carrying in your hand. Do you prefer shoulder length loops? Then 80 cm is a usual length. It is also possible to make the loops in the same material as the entire bag, namely PP Woven. The loops protrude above the bag. Do you want the shopper to be able to be closed at the top? Then choose a zipper, velcro closure or press stud between the loops. For extra load-bearing capacity, it is recommended to add a bottom inlay of plastic or cardboard.
Printing PP woven shopping bags
The PP shoppers can be printed in all PANTONE® colours or in full colour. The colour scheme will therefore match your store or product well. From a simple print in one colour on the front and back to a full print in full colour. Depending of the chosen edition and printing, the PP woven shopping bags are printed by means of gravure or screen printing.
Material of PP woven shopping bags
For the printing of the PP woven shopping bags, you can choose from different quality materials. If you are using small-sized shoppers or if the bag is used for light products, a thickness of 120 grams PP woven is sufficient. The large format shoppers, as you see them in the supermarket, are usually made of 160 grams PP woven. 140 grams PP woven is the middle way. The PP woven material is finished with a gloss or matt laminate. PP woven shopping bags have a woven structure on the inside. With RPET shopping bags, the material feels a lot softer.
Ecological PP woven shopping bags
PP Woven shopping bags are often reused by the customer and for this reason can be called sustainable. In addition, it is also possible to produce ecological shoppers in RPET Woven material. The PP Woven RPET carrier bags are made from recycled PET bottles. This material is much softer than PP Woven.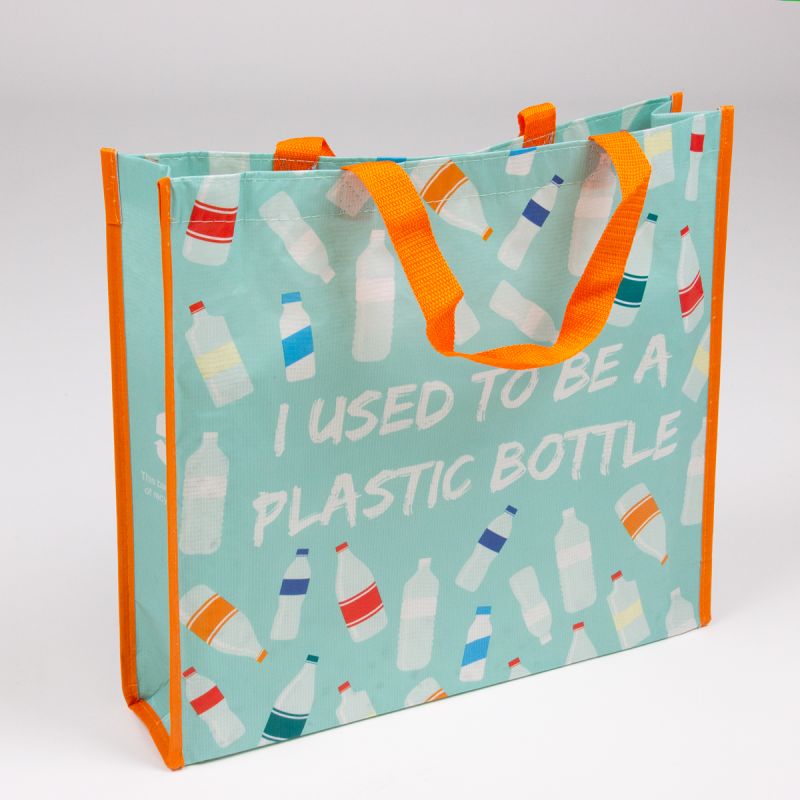 Order PP woven shopping bags directly
Do you quickly need PP woven shopping bags or require a small quantity? We have shoppers available from stock in various designs and colours. This allows us to deliver both unprinted and printed PP Woven shopping bags to you from 24 hours. Printed PP woven shopping bags are printed in our own screen printing facility. The front and back can be printed in up to 6 PANTONE® colours. Click here to order your shopping bag directly.
Be inspired by our packaging
Below you can find several examples of PP woven shopping bags. Have you seen something beautiful that suits your needs?
Help and advice
Do you have questions about a product or do you need help with your design? We like to help you!