Printed cotton bags custom made according to your wishes
Do you want to print ecological bags with your own logo or design? Then choose our custom made cotton bags. Cotton bags, also often called linen bags, are the cheapest ecological bags in our range. You can put together these cotton bags according to your wishes. Think of the size of the bag, the colour of the material and the length of the handles. In addition, it is possible to choose GOTS® certified cotton or Fairtrade® certified cotton. View all versions and options of the custom cotton bags below.
4 advantages of cotton bags
Cotton bags are the cheapest reusable carrier bag in our range;
Cotton bags are very versatile, from a shoe store to an event;
Cotton bags can be coloured in any desired PANTONE colour;
Cotton bags are available in Fairtrade® or GOTS® certified cotton.

Prefer to order directly from stock?
Use of cotton bags
Cotton bags were mainly known as the library bags, but nowadays these bags are used for all kinds of purposes worldwide. These linen bags are often purchased by clothing and shoe stores, cosmetics companies, bakers and supermarkets. In addition, this cotton bag is also ideal for handing out at a fair or event. Cotton is a natural product and comes from the cotton plant. This material is soft, moisture absorbent and strong.
Delivery time
With our own custom production, cotton bags can be delivered within 12-16 weeks. The delivery time depends on the edition, printing and material. In addition, it is possible ship the bags by airplane. The delivery time is 7-8 weeks. You can save a lot of time with this. Please do not hesitate to contact us for more information. The cotton bags can be completely printed. In addition, you can determine the size of the bags and the colour of the handles yourself. From this production you can also opt for Fairtrade® or GOTS® certified cotton.
Ecological cotton bags
Cotton is an unbleached natural ecological product and has a natural ecru colour. The strong material ensures that the consumer will reuse the cotton bags more often, for this reason it can certainly be called a sustainable carrier bag. You can also opt for Fairtrade® certified, GOTS® certified or recycled cotton.
Material of cotton bags
Cotton bags are originally made of unbleached natural cotton. This has an ecru / off-white colour. The quality is 120 grams (4 Oz.) cotton. The cotton material can be coloured in any PANTONE® colour. The quality is 140 grams (5 Oz.) coloured cotton. Thicker qualities of cotton are also possible, this is called canvas. Feel free to inquire about the possibilities.
Printing cotton bags
Cotton bags can be printed in PANTONE® colours or in full colour. From a simple print in one colour on the front and back to a full print in full colour. When printed in one or more printing colours, the bags are printed by means of screen printing. Do you have a full colour design? Depending on the logo and the desired delivery time, the cotton bags are shipped by means of transfer printing, sublimation printing or digital print.
Screen printing
Screen printing is the most commonly used printing technique for printing cotton bags. Only full PANTONE® colours are possible. The advantage of screen printing is that this printing technique ensures a colourfast and good covering print. The PANTONE® colour can also be printed well on a coloured background because the ink is quite thick on the bag.
Transfer printing
With transfer printing it is possible to print a full colour image or logo on the cotton bags. First, the design is printed on foil and this is then applied to the bag. This makes the printing tangible.
Sublimation printing
Sublimation printing is only possible on white polycotton material. The material is made of 80% cotton and 20% plastic. The great advantage of sublimation printing is that with this printing technique a full colour image can be perfectly printed on the cotton material. This print cannot be felt and can also be washed.
Digital print
With digital print, the cotton bags are printed in full colour in high speed. This can be done on both natural ecru cotton and white coloured cotton. The colours are less bright and a bit fainter than with the above printing techniques. The biggest advantage is the speed of digital printing. The colour of the material affects the print. With a non-white background, the print will saturate with the colour of the material.
Models of cotton bags
The cotton bags usually come with shoulder straps of about 78 cm. This can be in the natural colour of the material itself but can also be coloured in any desired PANTONE® colour. Do you prefer a length where you can carry the bag in your hand? Then we recommend a length of 50 cm. The linen bags can be made in a flat variant. If you are looking for a cotton bag with more depth, you can choose the custom-made cotton tote bag. This variant has a bottom fold. For even more depth, the bag can be equipped with a bottom and side fold, also known as a block bottom. This design is recommended for shoe boxes or other large products.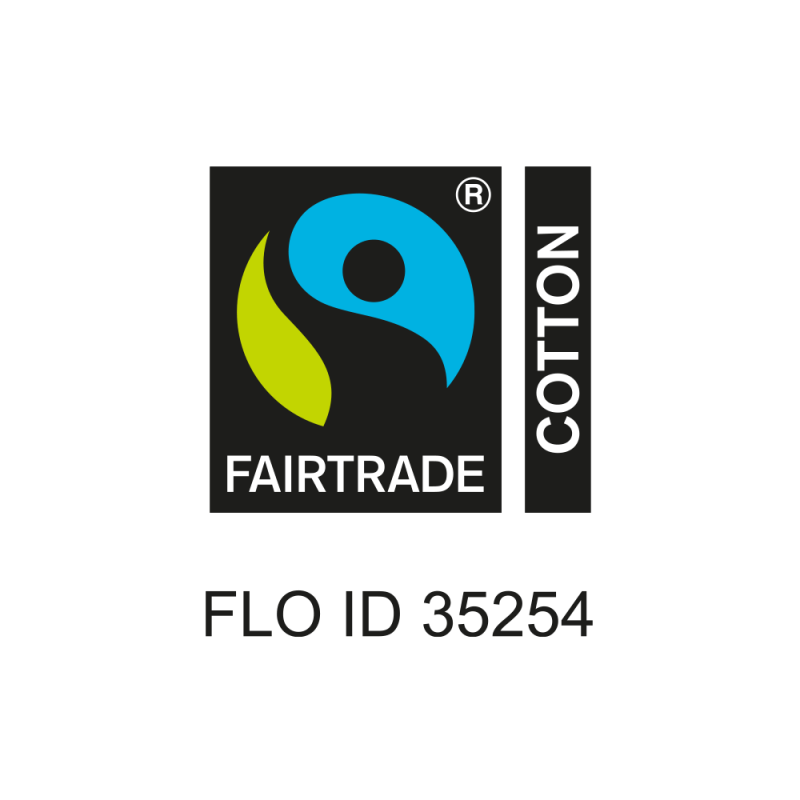 Fairtrade® certified cotton
Fairtrade® is both a quality mark and a worldwide movement. Every quarter we pay a percentage on all products sold with a Fairtrade® label. Do you think it is important that farmers and workers in developing countries get a better place in the supply chain? Then choose Fairtrade® certified cotton. Also known in the Netherlands under the Max Havelaar quality mark. We have been officially Fairtrade® certified with the number FLOID 35254 since 2016. We can supply all models of cotton and canvas bags with a Fairtrade® label. If you choose this, the Fairtrade® label will be stitched into the bag, so that you can demonstrate that you are environmentally conscious.
GOTS® certified cotton
With the GOTS® quality mark you are assured of cotton bags that are produced in a socially responsible manner. When you purchase cotton bags with this certificate, you can be sure that at least 70% of the fibres in your cotton bags are made from organic cotton. The percentage of organic fibres is stated on the label / label of the bags. In this way you also show your consumer that you are environmentally conscious.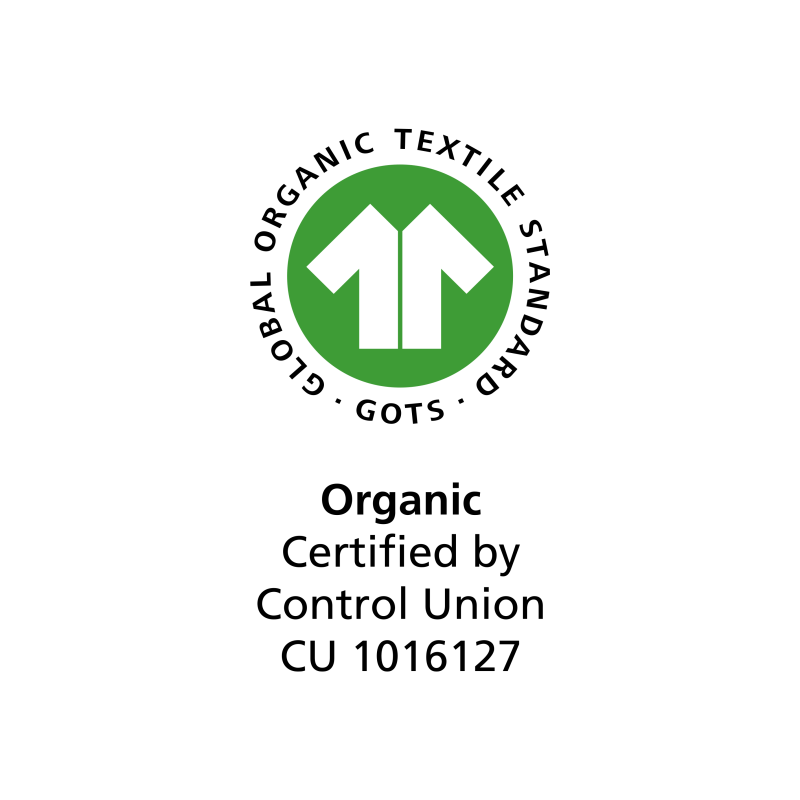 Recycled Cotton
The recycled cotton bags are made from 100% recycled waste from the cotton industry and are available in different colors. By providing the bags with a label with the recycled logo, you also show your customers that you are aware of ecologically responsible business.
Order cotton bags directly
Do you need the cotton bags delivered quickly or require a small order amount? We have cotton bags in stock in the most common sizes and colours. This allows us to deliver unprinted and printed cotton bags from 100 pieces to you within 1-3 working days. Printed cotton bags are printed in our own screen-printing shop. The front and back are printed up to 6 PANTONE® colours. With our digital printers we can even print your cotton bags in full colour! Simply put your cotton bags together in the configurators and place your order immediately. Click here to order your cotton bags directly.


Be inspired by our packaging
Below you can find several examples of cotton bags. Have you seen something beautiful that suits your needs?
Help and advice
Do you have questions about a product or do you need help with your design? We like to help you!