Jute wine bottle bags for 6 bottles - Natural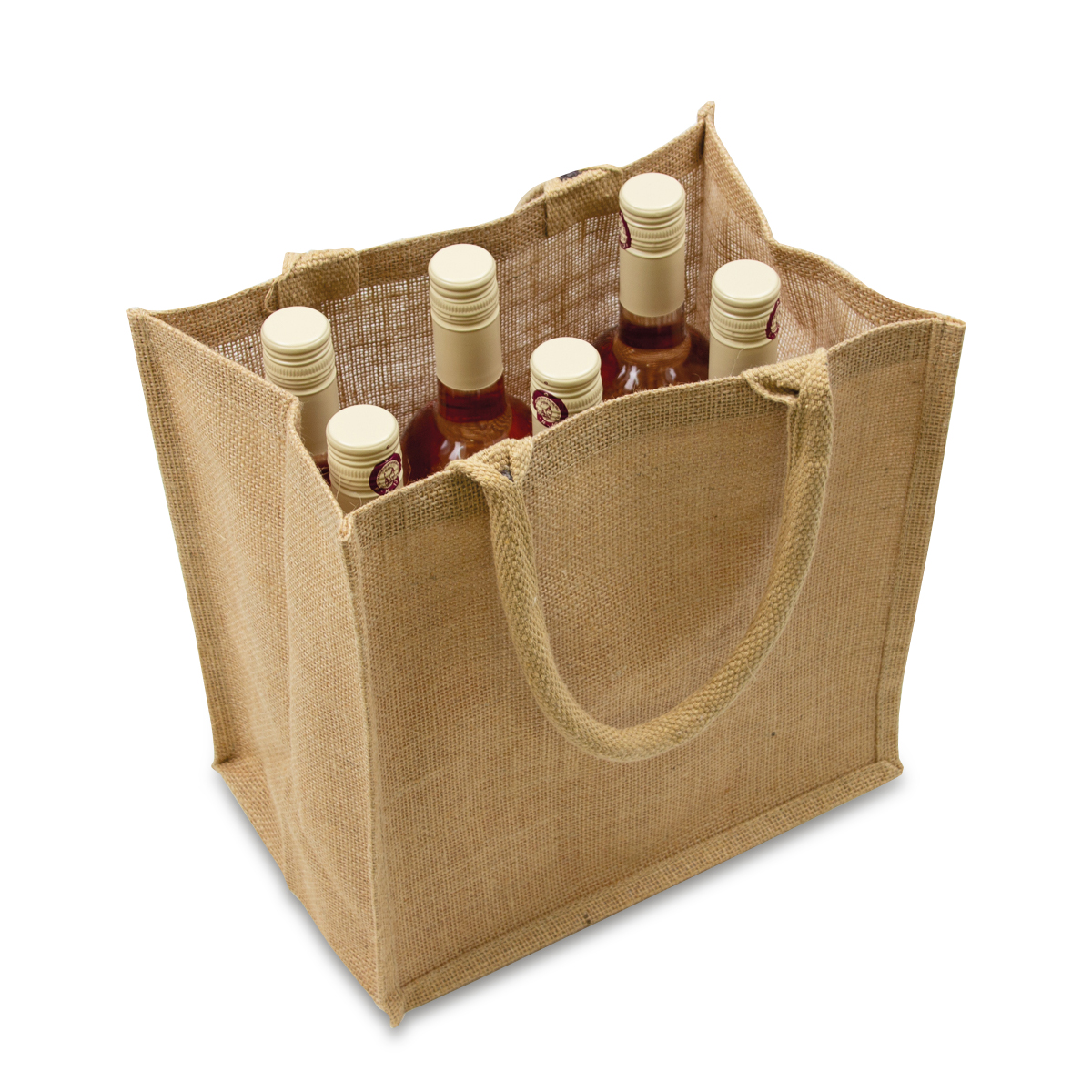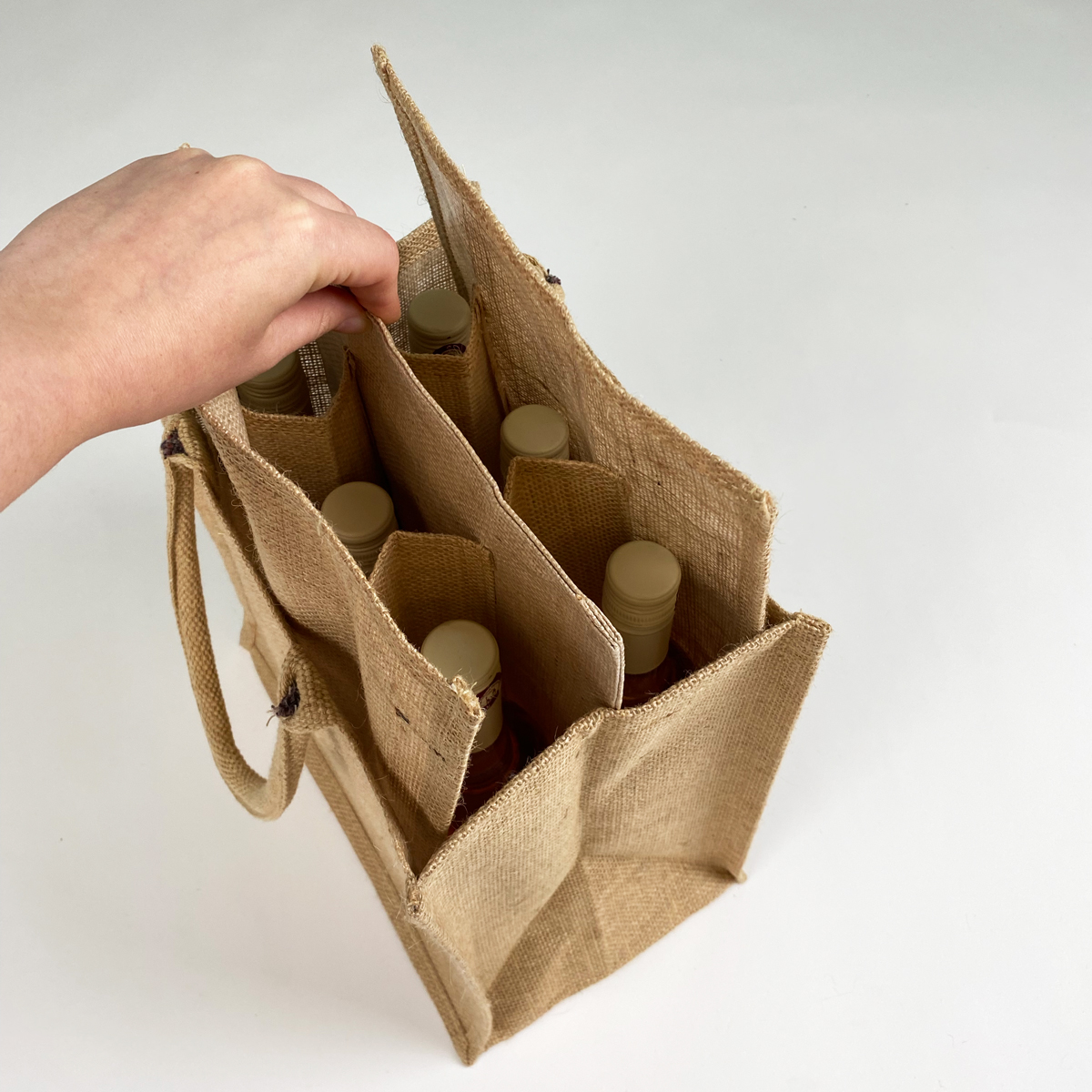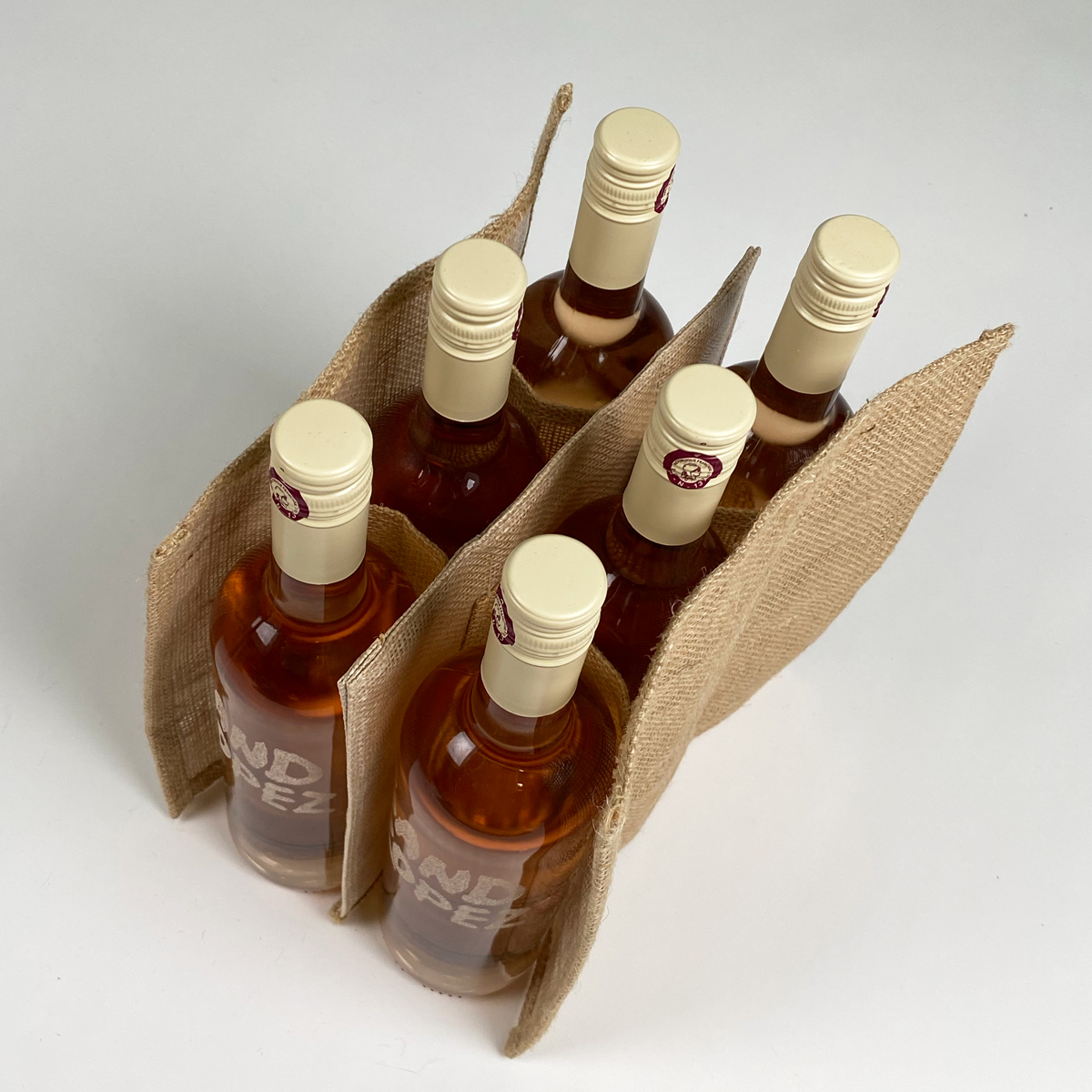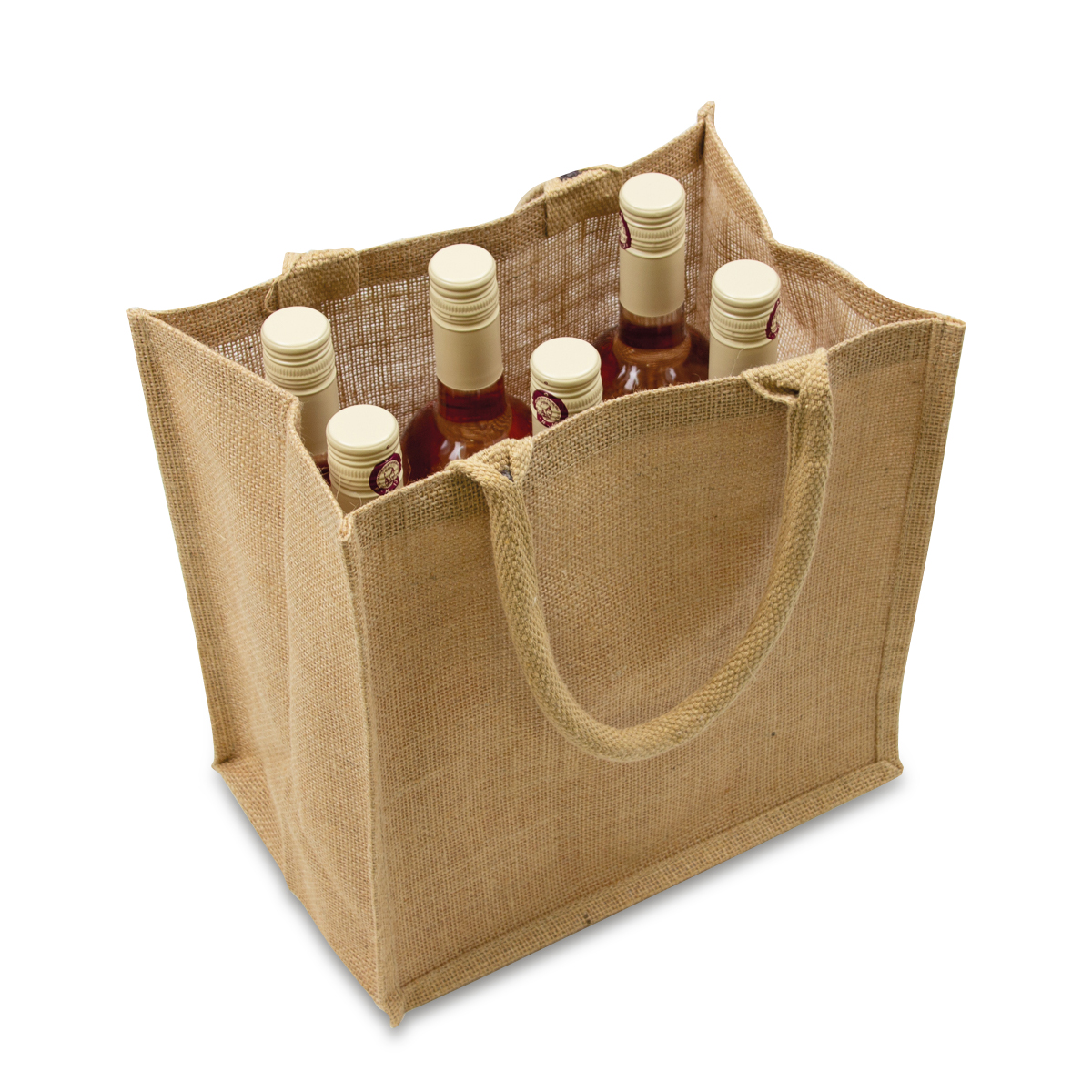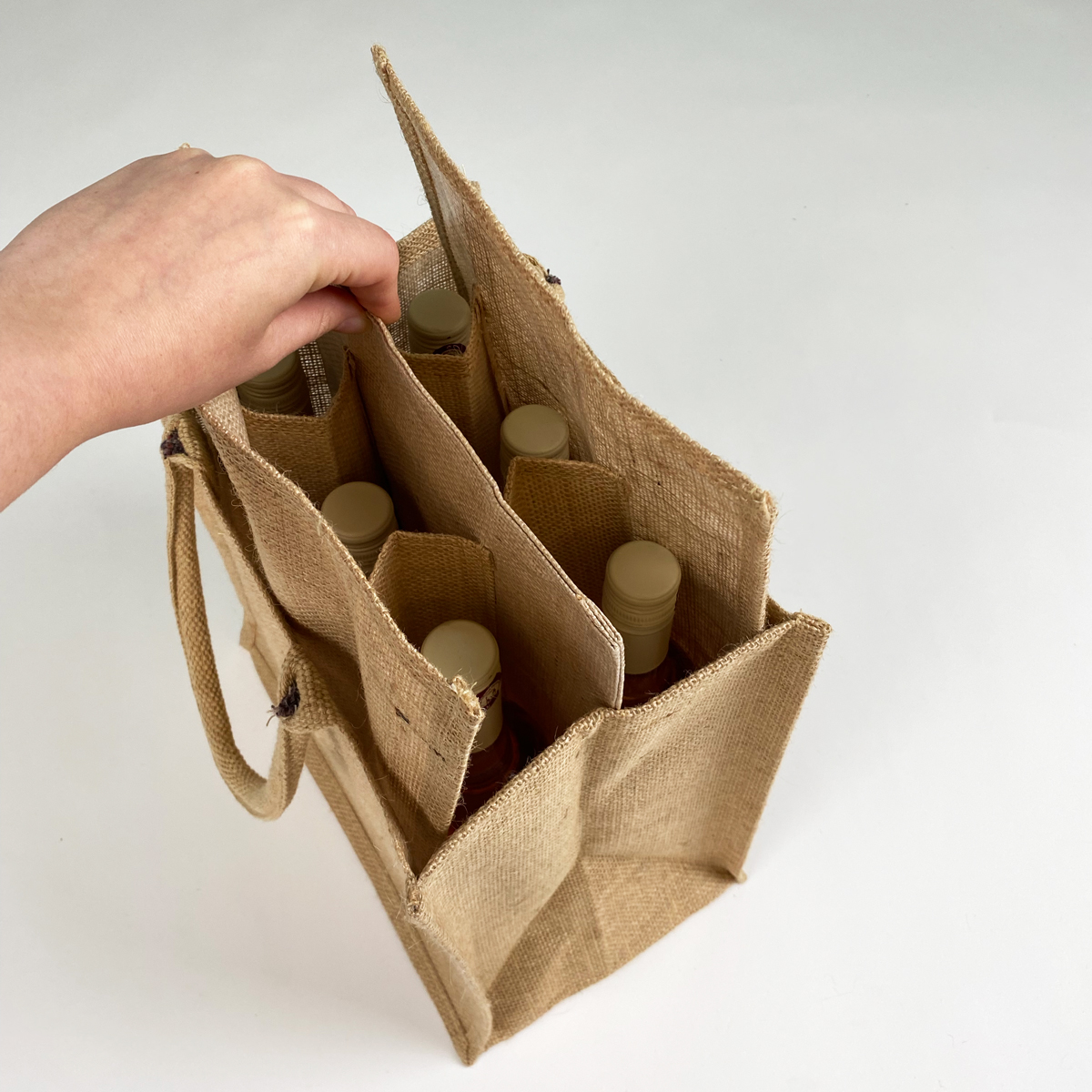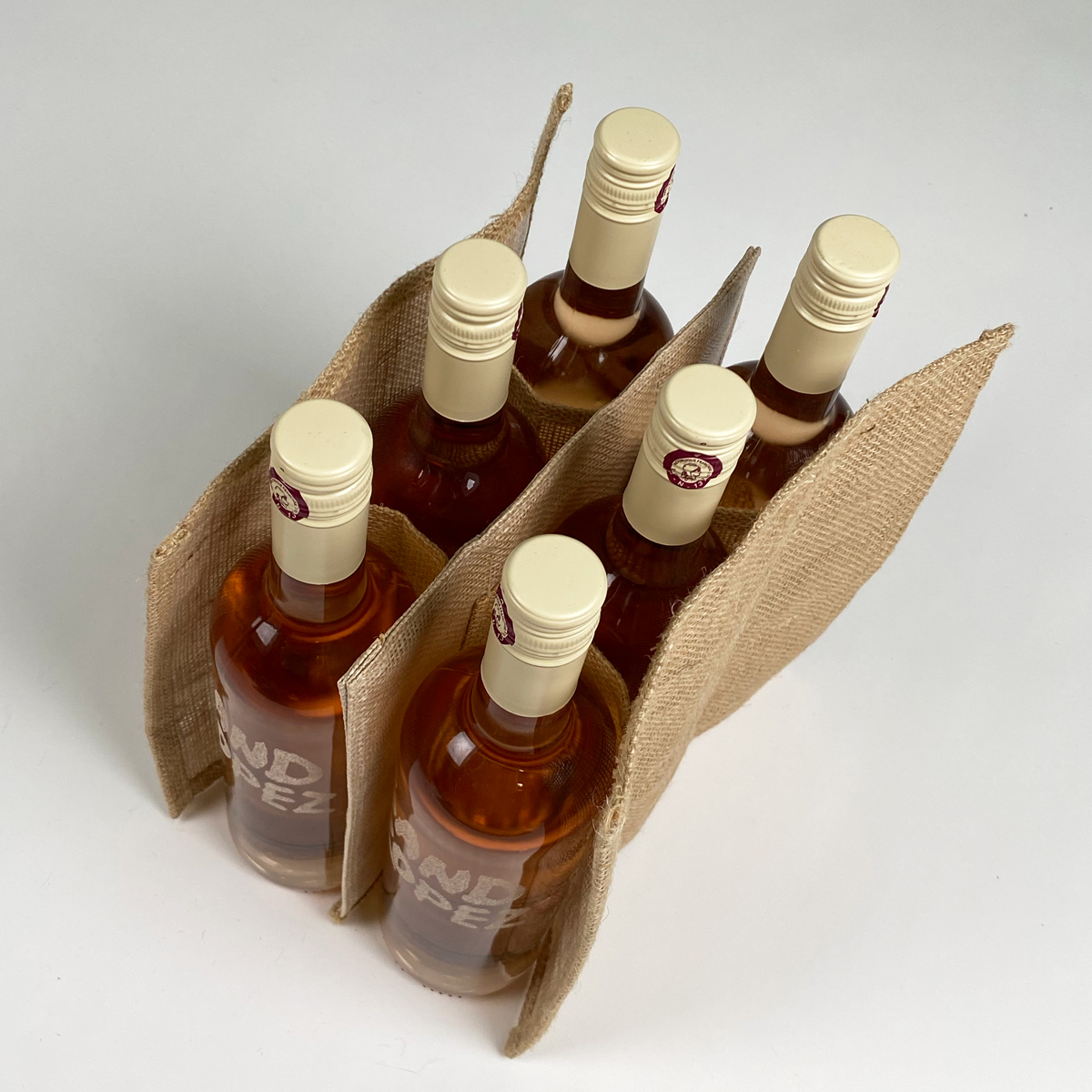 Are you looking for a strong bag to package and carry your wine bottles? These jute wine bottle bags are extremely strong! The bags have a separate compartment inside for 6 bottles which can easily be taken out and the bag used for grocery shopping. This is a perfect bag to sell during the holidays…
Read on
Configure your product below
Product information "Jute wine bottle bags for 6 bottles"
Are you looking for a strong bag to package and carry your wine bottles? These jute wine bottle bags are extremely strong! The bags have a separate compartment inside for 6 bottles which can easily be taken out and the bag used for grocery shopping. This is a perfect bag to sell during the holidays or to pack your Christmas gifts in. Because the bag is to carry because of the soft handle and strong due to the jute material, it will be reused again and again. You will regularly see it in the streets with your logo or design on it.
Order your printed or unprinted jute wine bottle bags for 6 bottles
The jute bags are perfect bags for transporting, for example, wine bottles or bottles of oil. You can print these bags with the name of your store so that they will advertise your store every time somebody uses them, which is a lot! This bag size fits exactly 6 standard-sized wine bottles. The inlay is delivered loose so that the bag can also be used without this bottle division. Due to the sturdiness of the material, this bag can be reused again and again. The inside of the bag is laminated, which makes the bag water-proof and extremely strong! The bag has soft cotton handles, which makes it easy to carry. This bag is perfect to use during the holidays as a Christmas packaging or as beautiful gift packages to sell in your store. Check the FAQ on jute wine bottle bags for 6 bottles for the most common questions about this product. Is your question not listed? Feel free to contact us.
Custom jute wine bottle bags for 6 bottles?
Get inspired on our
custom-made page
and request a tailor-made quotation or a free visual.
Downloads
Download the delivery specifications and layouts of the desired product below.
Properties
Model
Material
Material colour
Sizing
Size
Ecological
Always a suitable solution
48H delivery possible
In-house productions
Free visual and/or sample
Help with your design by our graphic studio
Best price guarantee
Frequently Asked Questions
Below you will find the most frequently asked questions. Is your question not listed? Then get in touch with us by phone, chat or email. We will answer your question as soon as possible.
What material are jute wine bottle bags for 6 bottles made of?
The jute wine bottle bags are made from 13x13 PSI jute. PSI stands for Per Square Inch. The higher the numbers, the thicker the weave. The bags are stitched together with piping all around for extra strength. The bag has an inside lamination which ensures its strength.
Can I have jute wine bottle bags made to measure for 6 bottles?
We can produce custom jute bags in any size. Besides any size, this can be done in any material color, printing color and the desired extra's. The order quantity for a custom jute bag is 500 pieces.
What are jute wine bottle bags for 6 bottles used for? 
These bags can be used with inlay for packaging and transporting 6 wine bottles, but also oil bottles, beers or, for example, other drinks. In addition, jute shoppers can be used in various ways when you take out the inlay. These bags can be used as a shopping bag or, for example, as a Christmas present. Instead of the Christmas box use a beautiful jute bag printed with your logo. A perfect way to give away your Christmas parcels. In contrast to the boxes, this bag will not be thrown away and will be reused later. You can also sell ready-made gift packages in your store and package them in a jute bag.
How are jute wine bottle bags for 6 bottles printed?
Jute wine bottle bags are printed by means of screen printing. This is a printing technique with which full colors can be printed. We can print these bags as well as the front and back in one or more colors. This is possible in all PANTONE® colors. Contact one of our colleagues and request a free visual. This way you can see what the bag looks like with your printing.
Can I pick up my jute wine bottle bags for 6 bottles?
It is possible to collect your bags from our warehouse. This can be done for both printed and unprinted bags, shipping boxes and gift packaging. As soon as the jute bags